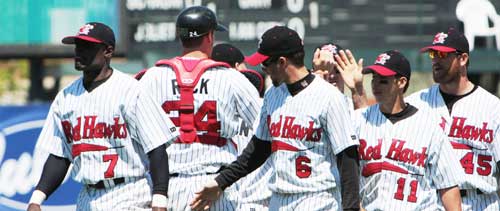 The Fargo-Moorhead RedHawks have renewed the 2009 contract options on 17 players, the Northern League club announced. The RedHawks have declined the 2009 contract options on four players, who are now free agents.
The RedHawks renewed options on the following players: RHP Garry Bakker; OF Boomer Berry; LHP Broc Coffman; 2B Carlo Cota; RHP Todd George; RHP Nick Hetland; LHP Scott Koerber; RHP Brett Lawson; OF Joe Mathis; LHP David Morgan; OF Steve Mortimer; INF Jeremiah Piepkorn; C Alan Rick; LHP Adam Rowe; 1B Ruben Salazar; RHP Billy Weitzman and OF Kole Zimmerman. By renewing the option on these players, the RedHawks have retained their playing rights for the 2009 Northern League season.
Fargo-Moorhead declined options on RHP Nate Cotton, 3B Jeff Eure, DH Jimmy Hurst and LHP Mike Peschel. The four players are now unrestricted free agents.
"This is the first step in assembling a championship-caliber team in 2009," said RedHawks General Manager Josh Buchholz. "Doug Simunic is already negotiating contract terms with some of the players we want to bring back next summer, and fans will see a nice mix of guys from last season with a new batch of RedHawks."