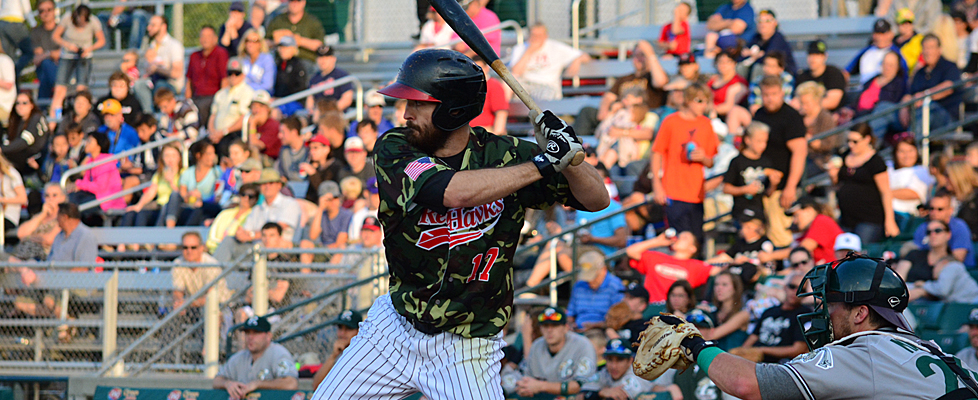 Gary's big fourth inning with four runs and sixth with two were unmatched by the RedHawks, as they dropped the opening game of the three-game series on Tuesday night at Newman Outdoor Field in Fargo, ND in front of 4,069 fans on a Military Appreciation Night.

The RailCats were the first one to get runs on the scoreboard. Wally Backman singled, and with one out, Ryan Brockett found a gap as well. Drew Muren then collected an easy RBI wit ha single. With one man out, Danny Pulfer's fielder's choice brought in third run of the inning, and back to back doubles from Drew Martinez and 2 RBI double from Zac Mitchell meant 4-0 lead for the Gary SouthShore RailCats.

The 'Hawks got one of the runs back, courtesy of Ronnie Bourquin, as he singled, and after a walk to Petey Paramore, Bourquin scored on Dusty Robinson's base hit.

Visitors jumped back to a four-run lead after Josh Romanski's walk, who scored effortlessly after Drew Bowlin's two balks and a passed ball. Two more runs crossed the plate for the 'Cats in the top fourth. After Drew Muren's solo home run, Danny Pulfer scored on Ryan Babineau's single to make it 7-1 Gary.

Fargo-Moorhead's hitters were able to chip away the lead, adding one run in each fifth, sixth, seventh and eighth inning. In the fifth, Sawyer Carroll hit a solo home run. Gary got themselves two insurance runs in the sixth inning, Craig Maddox collected two RBIs on his double. The next half-inning, it was Petey Paramore who sent the ball over the right field wall, making the score 9-3.

Dusty Robinson was the fourth run of the game for the home team, it came in the seventh inning. He got home on Nic Jackson's single to second baseman, who did not have a play on the groundball. The last run for the RedHawks was Paramore, after the initial walk taking home on the error by the left fielder following a Robinson single.

The RedHawks were unable to get anything done in the bottom of the ninth, giving Stephen Bouger the win (4-3), while Drew Bowlin got the loss on his record, which is 2-3 after tonight's triumph.