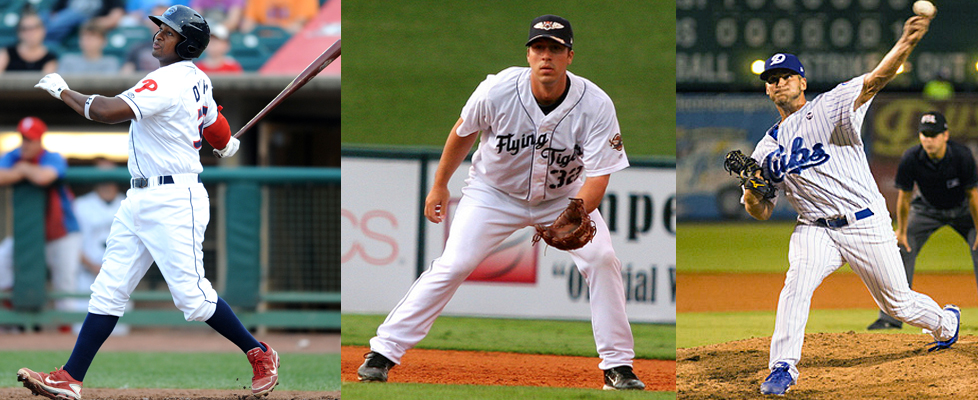 FARGO, N.D. – The Fargo-Moorhead RedHawks have signed LHP Austin Kirk and acquired INF Ryan Soares from the Amarillo ThunderHeads for cash and OF/1B Chris Duffy from the Ottawa Champions of the Can-Am League for future considerations.
Kirk, 24, joins the RedHawks after splitting last season with the Tennessee Smokies of the Southern League (AA) and the Daytona Cubs of the Florida State League (High-A) as a member of the Chicago Cubs organization. He appeared in 39 games (one start) and was 2-4 with a 3.75 ERA and a pair of saves. Kirk pitched 69.2 innings and allowed 36 runs (29 earned) on 58 hits. He struck out 46 batters and walked 37.
Kirk was selected by Chicago in the third round of the 2009 draft out of Owasso (Okla.) High School. In six seasons in the Cubs organization, he was 31-31 with a 4.01 ERA in 137 games (85 starts). Kirk has pitched 547.2 career innings and racked up 411 strikeouts. Among his career highlights is a no-hitter for the Peoria Chiefs of the Midwest League on July 4, 2011.
Soares, 27, spent last season with the Windy City (Ill.) ThunderBolts of the Frontier League, his second year with the team. He batted .277 with 23 doubles, two triples, three home runs, 45 RBIs and 50 runs scored in 95 games. A versatile infielder, Soares played the majority of the season at second base but also saw time at third base and shortstop.
Soares was the 36th round secection by the Detroit Tigers in 2010 draft out of George Mason (Va.) University. He spent three seasons in the Tigers organization and reached Lakeland of the Florida State League (High-A).
Duffy, 27, spent last season with the Sioux Falls Canaries and was traded to Ottawa during the off-season. In 2014, he batted .242 with 26 doubles, 15 home runs, 52 RBIs and 50 runs scored in 99 games for Sioux Falls.
Duffy was taken by the Philadelphia Phillies in the 26th round of the 2010 draft out of the University of Central Florida. He spent three seasons in the Phillies organization and reached Clearwater of the Florida State League (High-A). Duffy spend the 2013 season with the New Jersey Jackals of the Can-Am League, and also appeared in three games with the Camden Riversharks of the Atlantic League.