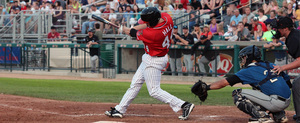 FARGO, ND – The Fargo-Moorhead RedHawks fell behind big early, battled back to tie the game in the late innings, but eventually fell 10-9 to the St. Paul Saints in 10 innings in front of a sellout crowd of 4,614 RedHawks faithful on Friday night.

Joe Harris started on the mound for the RedHawks. Harris, a RedHawk from 2011-2014, was just signed after starting the season with the York Revolution in the Atlantic League. He retired six of the first seven batters he saw, the lone hit coming on a Mike Kvasnicka solo home run in the second.

After two innings of play it was tied 1-1 and Harris was moving right along. However, St. Paul's bats came alive in the third. St. Paul scored seven runs on five hits in the third inning, including Kvasnicka's second homer of the game, this one a three-run bomb sent to left.

Despite the rocky third inning, Doug Simunic stuck with Harris. He retired the side in the fourth, and gave up one hit in the fifth, which happened to be a solo shot to Angelo Songco. In his first start, Harris earned the no-decision going 5.2 innings, giving up six runs (three earned) on 11 hits with a pair of strikeouts.

The comeback began in the sixth inning where the RedHawks pounded the best pitcher in the American Association. Dustin Crenshaw held the league's best ERA (1.62) heading into tonight's game, but he gave up six runs (three earned) on 11 hits with two strikeouts in 5.2 innings pitched.
Chad Mozingo and Joe Staley had back-to-back singles to start the sixth, and Joe Dunigan followed with an opposite field RBI double scoring Mozingo. Next up was Joe Bonfe. Bonfe would reach on a fielding error from Saints' third sacker Steve Nikorak which loaded the bases for Drew Muren. Muren proceeded to slap a chopper to short where Anthony Phillips flipped to Dan Kaczrowski for out one, but Kaczrowski made a throwing error trying to turn the double play. Staley had already scored, but now Dunigan came aroudn third on home from the error. Down 9-4, newly signed third baseman Frazier Hall stepped to the plate. In his third at-bat as a RedHawk, Hall crushed a two-run homer over the wall in right-center making it 9-6 after six innings.

The RedHawks would add another in the seventh. Chad Mozingo lined a double into the gap in right-center and he was driven in on a Joe Dunigan RBI single two batters later.

The comeback was completed in the eighth. Drew Muren and Frazier Hall would leadoff the frame with back-to-back walks. Muren was batted in courtesy of a sacrifice fly from Charlie Valerio to deep right field. Mozingo then proceeded to belt his 17th double of the season scoring Hall and tying the game 9-9 in the 8th.

Neither team scored in the ninth, so Fargo-Moorhead was forced to participate in it's fifth extra-innings game of the season. Mike Kvasnicka continued to be a RedHawk killer in the bonus frame. The former Minnesota Twins first round draft pick took the first offering he saw from Ty Kelley and sent it over the fence in right-center for his third homer of the game giving St. Paul a 10-9 lead. Kvasnicka had a monster game, going 4-for-5 with 5 RBIs and three runs scored for St. Paul.

Ryan Rodebaugh pitched the ninth and remained for the tenth. He retired the RedHawks in order giving the Saints a 10-9 victory in ten innings. With the loss, Fargo-Moorhead is now 10-25 while the Saints march on with a league best record of 27-7. The two teams will return to Newman Outdoor Field on Saturday night at 6 p.m with Brandon Mann set to take the mound for the RedHawks.

Game Date: 06/26/2015
St Paul Saints 10 AT Fargo-Moorhead RedHawks 9 (EXTRA INNINGS)

YTD YTD
St Paul AB R H BI AVG Fargo AB R H BI AVG
M.Elliott CF 5 1 1 1 .218 F.Salerno 2B 5 1 2 0 .266
S.Nikorak 3B 3 1 1 0 .234 C.Valerio C 4 0 1 2 .308
V.DiFazio C 5 1 1 0 .410 C.Mozingo LF 5 2 3 1 .336
I.Gac 1B 3 1 0 0 .333 J.Staley DH 5 1 2 0 .288
A.Songco RF 4 2 2 3 .349 J.Dunigan RF 4 1 3 2 .208
M.Kvasnicka DH 5 3 4 5 .324 J.Bonfe 1B 5 0 1 0 .227
J.Paciorek LF 5 0 0 0 .281 D.Muren CF 4 2 0 1 .252
A.Phillips SS 5 1 1 0 .241 F.Hall 3B 4 2 1 2 .250
D.Kaczrowski 2B 4 0 0 0 .063 B.Peterson SS 5 0 1 0 .203
39 10 10 9 41 9 14 8

St Paul 0 1 7 0 1 0 0 0 0 1 - 10 10 2
Fargo 1 0 0 0 0 5 1 2 0 0 - 9 14 1
2B--M.Elliott (2), A.Songco (5), F.Salerno (5), C.Mozingo 2 (17), J.Dunigan
2 (8). HR--A.Songco (6), M.Kvasnicka 3 (4), F.Hall (1). RBI--M.Elliott (3),
A.Songco 3 (34), M.Kvasnicka 5 (19), C.Valerio 2 (10), C.Mozingo (20),
J.Dunigan 2 (17), D.Muren (11), F.Hall 2 (2). SF--C.Valerio (2).
SH--D.Kaczrowski (0). SB--F.Salerno 2 (12). E--S.Nikorak (9), D.Kaczrowski
(1), F.Hall (1).
LOB--St Paul 5, Fargo 7. DP--A. Phillips(SS), D. Kaczrowski(2B) - A.
Phillips(SS) - I. Gac(1B), F. Salerno(2B) - B. Peterson(SS) - J. Bonfe(1B),
A. Songco(RF) - A. Songco(RF) - I. Gac(1B).
YTD
IP H R ER BB SO HR ERA
St Paul
D.Crenshaw 5.2 11 6 3 0 2 1 1.94
D.Gay 1.0 1 1 1 0 1 0 2.87
A.Sogard 0.0 1 0 0 0 0 0 0.00
M.Zouzalik 0.2 0 2 2 3 1 0 2.81
D.Chavez 0.2 1 0 0 1 0 0 3.27
R.Rodebaugh (W,2-2) 2.0 0 0 0 0 2 0 1.62
10 14 9 6 4 6 1
Fargo
J.Harris 5.0 7 9 8 1 3 3 14.40
B.Waite 2.0 0 0 0 2 1 0 0.00
M.Noteware 1.0 1 0 0 1 2 0 6.93
T.Kelley (L,0-5) 2.0 2 1 1 1 3 1 3.63
10 10 10 9 5 9 4
WP--M.Zouzalik (1). SO--M.Elliott, V.DiFazio, I.Gac 2, J.Paciorek 3,
A.Phillips, D.Kaczrowski, F.Salerno, C.Valerio, C.Mozingo, J.Staley,
J.Bonfe, B.Peterson. BB--S.Nikorak 2, I.Gac 2, A.Songco, F.Salerno,
J.Dunigan, D.Muren, F.Hall. BF--D.Crenshaw 27 (209), D.Gay 4 (68), A.Sogard
(38), M.Zouzalik 5 (61), D.Chavez 4 (46), R.Rodebaugh 5 (66), J.Harris 24
(24), B.Waite 7 (9), M.Noteware 5 (120), T.Kelley 9 (99). P-S--D.Crenshaw
77-56, D.Gay 17-11, A.Sogard 3-1, M.Zouzalik 22-9, D.Chavez 11-7,
R.Rodebaugh 22-13, J.Harris 101-67, B.Waite 30-15, M.Noteware 22-12,
T.Kelley 32-18.
T--3:37. A--4614

Weather:
Plate Umpire - Tyler Thurmond, Field Umpire #1 - Bryan Childe, Field Umpire #2 - Chantz Wilson