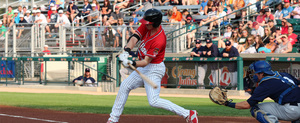 FARGO, ND – The Fargo-Moorhead RedHawks were shutout for the third time this season, falling 11-0 to the Winnipeg Goldeyes in front of 3,791 fans at Newman Outdoor Field.

The Goldeyes jumped on RedHawks starter Joe Harris early. Chris Robinson walked and was driven in on a Casey Haerther double to left-center giving Winnipeg a 1-0 lead after the first. They would tack on three more in the third. Chris Robinson lead off with a double and Brad Boyer grounded to first driving him in. Haerther and Josh Mazzola walked and designated-hitter Ryan Babineau pushed a double into the alley in left that rolled to the fence scoring scoring both of them making it 4-0.

Benji Waite came on in relief for Fargo-Moorhead for the last out of the third. In the fourth Brad Boyer lead off with a solo home run to left making it 5-0. Babineau walked and scored on a Brady Wilson single, and Luis Alen, who reached on a slap single, was driven in on an Adam Heisler triple sent to the alley in left making it 8-0.

Winnipeg would add two in the eighth and one in the ninth making the score 11-0. In 2.2 innings of work Joe Harris (1-1, 8.56 ERA) took the loss for the RedHawks while Nick Hernandez (5-2, 1.89 ERA) earned the win for the Goldeyes. The hard throwing left-hander pitched well for the Goldeyes, going seven strong, allowing five hits and no runs with three walks and four strikeouts.

The RedHawks left 12 runners on base. Chad Mozingo, Joe Bonfe and Brent Peterson had multi-hit games with each of them collecting two. Fargo-Moorhead falls to 13-32 while Winnipeg improves to 18-25. Game three is tomorrow night at 7:02 p.m as the RedHawks send lefty Brandon Mann (1-4, 4.83 ERA) to the mound while the Fish counter with Matt Jackson (2-5, 6.04 ERA).
Game Date: 07/07/2015
Winnipeg Goldeyes  11 AT Fargo-Moorhead RedHawks  0

                                 YTD                                   YTD
Winnipeg           AB  R  H BI   AVG  Fargo              AB  R  H BI   AVG
A.Heisler CF        6  2  2  1  .302  D.Muren CF          5  0  0  0  .253
C.Robinson C        5  2  1  0  .360  Z.Penprase SS       5  0  0  0  .261
C.Haerther 3B       5  2  4  3  .326  C.Mozingo LF        5  0  2  0  .301
J.Weber LF          5  1  2  0  .328  J.Bonfe 1B          4  0  2  0  .297
J.Mazzola SS        4  1  1  1  .306  J.Dunigan RF        3  0  1  0  .214
B.Boyer 2B          5  1  2  2  .279  Z.Wright C          2  0  0  0  .200
R.Babineau DH       3  1  2  2  .286  J.Staley DH         4  0  0  0  .252
L.Alen 1B           4  1  2  1  .258  F.Salerno 2B        3  0  1  0  .263
B.Wilson RF         4  0  1  1  .252  B.Peterson 3B       4  0  2  0  .219
                   41 11 17 11                           35  0  8  0

Winnipeg             1 0 3   1 3 0   0 2 1 - 11 17  1
Fargo                0 0 0   0 0 0   0 0 0 -  0  8  0
2B--A.Heisler (9), C.Robinson (3), C.Haerther 2 (8), R.Babineau (3),
C.Mozingo (19), J.Dunigan (10). 3B--A.Heisler (2). HR--B.Boyer (2).
RBI--A.Heisler (23), C.Haerther  3 (32), J.Mazzola (29), B.Boyer  2 (22),
R.Babineau  2 (5), L.Alen (13), B.Wilson (11). HP--L.Alen (3).
SB--J.Dunigan (4). CS--C.Haerther (1), J.Weber (3). E--J.Mazzola (11). 
LOB--Winnipeg 12, Fargo 12. DP--F. Salerno(2B) - B. Peterson(3B) - J.
Bonfe(1B), L. Alen(1B) - J. Mazzola(SS). 
                                                                YTD
                                 IP   H   R  ER  BB  SO  HR     ERA
 Winnipeg
N.Hernandez (W,5-2)             7.0   5   0   0   3   4   0    1.89
M.Noteware                      1.0   2   0   0   1   1   0    0.00
J.Peguero                       1.0   1   0   0   0   1   0    3.74
                                9     8   0   0   4   6   0
 Fargo
J.Harris (L,1-1)                2.2   6   4   4   4   4   0    8.56
B.Waite                         2.1   6   4   4   1   2   1    5.06
J.Chudy                         3.0   3   2   2   3   1   0    3.64
T.Kelley                        1.0   2   1   1   0   0   0    3.25
                                9    17  11  11   8   7   1
HB--B.Waite (2). SO--A.Heisler 2, C.Robinson, C.Haerther, J.Weber,
J.Mazzola, B.Wilson, D.Muren, J.Bonfe, J.Dunigan 2, J.Staley 2.
BB--C.Robinson, C.Haerther, J.Weber, J.Mazzola 2, R.Babineau 2, B.Wilson,
J.Dunigan, Z.Wright 2, F.Salerno. BF--N.Hernandez 29 (265), M.Noteware 6
(6), J.Peguero 4 (92), J.Harris 16 (64), B.Waite 14 (48), J.Chudy 15 (82),
T.Kelley 5 (121). P-S--N.Hernandez 96-65, M.Noteware 23-14, J.Peguero 11-7,
J.Harris 72-37, B.Waite 54-31, J.Chudy 57-31, T.Kelley 18-12. 
T--3:06.  A--3791

Weather: 73F, Clear, Winds 5 MPH SE to N
Plate Umpire - Joey Stegner, Field Umpire #1 - Kyle Goluba, Field Umpire #2 - Bobby Feaster