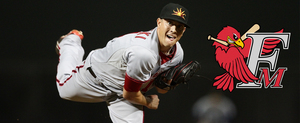 FARGO, N.D. – The Fargo-Moorhead RedHawks have acquired RHP Richie Mirowski from the Amarillo ThunderHeads for C/INF Charlie Valerio and cash.
UPDATED 11/05/15: The RedHawks re-acquired C/INF Charlie Valerio from Amarillo in exchange for future considerations.

Mirowski, 26, was 4-2 with a 3.57 ERA in 11 games (seven starts) for Amarillo in 2015 after he was acquired from the Washington (Penn.) Wild Things of the Frontier League in late July. He pitched 45.1 innings for Amarillo and allowed just 40 hits and struck out 55 batters. In 19 games (two starts) for Washington, Mirowski was 0-3 with a 4.76 ERA and one save. He struck out 42 batters in 28.1 innings for the Wild Things.
Mirowski was originally selected by the Washington Nationals in the 45th round of the 2011 draft out of Oklahoma Baptist University. In four seasons in the Nationals organization, he was 17-6 with a 2.37 ERA and 12 saves while advancing as high at Double-A Harrisburg in both 2013 and 2014. In 163.1 innings, he allowed 136 hits and struck out 183 batters. Mirowski also pitched in the prestigious Arizona Fall League in 2013.
Valerio batted .268 with 12 doubles, two triples, five home runs, 26 RBIs and 30 runs scored in 65 games. He missed 37 days due to a hand injury, but returned to play the final month of the season for Fargo-Moorhead.
"Richie was a pitcher we originally targeted when he was released by the Nationals last spring," said RedHawks Manager Doug Simunic. "It didn't work out then, but we are happy to add him to our rotation for next summer. We think he can be a top pitcher in this league and help us win a lot of games."