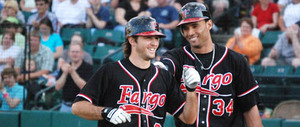 The Fargo-Moorhead RedHawks crept to 1 ½ games out of first place with a 13-4 victory over the Winnipeg Goldeyes before 5,622 at Canwest Park in Winnipeg on Monday night.
Fargo-Moorhead opened the scoring off Ace Walker in the first. Mike Coles singled to lead it off and went to second when the ball rolled through Kurt Crowell's legs in centre. Zach Penprase doubled to score Coles, went to third on a Donzell McDonald ground out and scored on a two-out single by Ruben Salazar.
It became 5-0 in the second. Justin Justice singled, went to third on a Carlo Cota double and scored on a Jeff Stevens ground out. With two out, Penprase walked and stole second as Cota stole third. Both scored on a Nic Jackson single.
The visitors added to their lead in the third. After Justice hit a two-out solo shot, Cota walked, stole second and scored on a Stevens double. Winnipeg got one back in the bottom of the inning off Garry Bakker. Cory Patton drew a two-out walk, Dustin Richardson singled and Juan Diaz singled to score Patton. It became 7-3 in the fourth. Dee Brown singled and scored on a triple by Crowell, who scored on a Jeff DeSmidt groundout. That was as close as it would get.
Jeremiah Piepkorn doubled to start the fifth and that was it for Walker. Ian Thomas came in and was met by a Justice double to score Piepkorn. With one out, Stevens singled and Coles doubled to score Justice. Jackson singled with two out to score Stevens and Coles and Donzell McDonald doubled to score Jackson to make it 12-3. Both clubs added a single run to make it a 13-4 final.
Bakker (2-0) picked up the win, allowing three runs on six hits in five innings, walking four and fanning four. Walker (9-6) took the loss after getting stung for eight runs on10 hits in just four innings, walking two and fanning two.
The two clubs will meet again on Tuesday night with a doubleheader starting at 6:00 p.m.