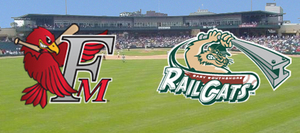 The Gary SouthShore RailCats (12-9) walked off the Fargo-Moorhead RedHawks (13-8) by a score of 2-1 in 11 innings. Wilfredo Gimenez scored on a walkoff wild pitch.
No runs were scored in the game until the top half of the seventh inning, Charlie Valerio reached on a one out walk. He advanced to second on a Jesus Posso single, and scored on a single from Yohoxian Medina.
The RailCats would even the game in the ninth with a Chase Harris RBI fielder's choice scoring John Holland. Holland reached base on a one-out single and advanced to third on a Giminez single.
The score would stay the same until the bottom of the eleventh. Giminez reached base on a hit-by-pitch to lead off the inning and would advance to third on a Reggie Wilson single before scoring the game-winning wild pitch.
Charlie Rosario pitched marvelously for the RailCats. He threw 6.2 innings with one unearned run, giving up four hits. Rosario struck out an American Association career-high eleven strikeouts. Rosario's previous high was 10 strikeouts in Winnipeg on July 16 of last year.
Carlos Pinales made his 2017 debut for the RailCats pitching a scoreless two-thirds of an inning only surrendering one walk.
Ryan Fritze (4-0) struck out two in a perfect eleventh inning to earn the victory.
Fargo-Moorhead's Tyler Alexander threw 6.1 innings of shutout ball, gave up five hits, walked two, and struck out three.
RedHawks closer Casey Weathers suffered his second loss in three games by giving up an earned runs in 1.1 innings (1-2).