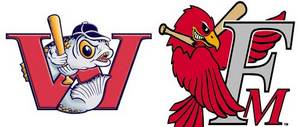 The Fargo-Moorhead RedHawks will host the arch-rival Winnipeg Goldeyes in the first round of the 2009 Northern League Playoffs beginning Wednesday night at 6:00 p.m. at Newman Outdoor Field. The RedHawks will also host Game 2 on Thursday night at 6:00 p.m. before the series shifts to Canwest Park in Winnipeg for Games 3, 4 (if necessary) and 5 (if necessary) starting Friday night.
Tickets for Games 1 & 2 went on sale Monday morning to the general public beginning at 10:00 a.m. at the RedHawks Ticket Office at Newman Outdoor Field, over the phone by calling 235-6161 or online at www.fmredhawks.com. All tickets for the 2009 post-season are $5.00 in advance and $7.00 on the day of game (phone and online fees apply).
Fargo-Moorhead has now qualified for the playoffs for the seventh consecutive season and for the 13th time in the club's 14-year history. The RedHawks have won Northern League titles in 1998, 2003 and 2006.
For more information on RedHawks playoff tickets, please call 701-235-6161.