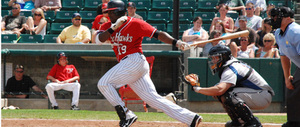 The Fargo-Moorhead RedHawks defeated the Joliet JackHammers 4-0 on Sunday afternoon to take the weekend series at Newman Outdoor Field. The RedHawks received an outstanding performance from starting pitcher Scott Fogelson, who threw seven scoreless innings. Fogelson struck out seven while allowing only three hits.
Fargo-Moorhead's Mike Coles was 4-4 on the day with two doubles and two runs scored. Coles tagged up and scored from second on a Nic Jackson fly ball in the sixth inning after Joliet right fielder Brad Correll forgot how many outs there were and began jogging towards the dugout. The JackHammers were able to double the RedHawks' Zach Penprase up at first base on the play, but not before Coles had crossed the plate.
Cory Patton and Alan Rick both homered for Fargo-Moorhead in the second inning. Patton's blast hit the Dakota Magic Casino sign in right field, earning him a $1000 casino chip and a free buffet for each fan in attendance.
Ross Stout picked up the loss for Joliet. He went five innings, allowing three runs on nine hits while striking out five and walking one.
The JackHammers will travel to Winnipeg to begin a series with the Goldeyes while Fargo-Moorhead will host the expansion Lake County Fielders for the first time tomorrow at 7:02pm.