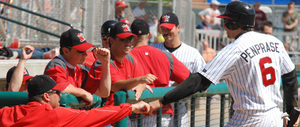 It took 16 days and two thunderstorm-prompted suspensions of play, but the Fargo-Moorhead RedHawks finally beat the Rockford RiverHawks.
Eric Campbell singled in the tie-breaking runs in the sixth inning on Monday as Fargo beat Rockford, 8-4.
The game, which began on June 5, was suspended after three innings because of a thunderstorm. The teams resumed play on June 6 and managed just another half-inning before a second thunderstorm. If that wasn't enough, the teams finished the game on Monday a half-hour before a third thunderstorm hit Road Ranger Stadium. The third storm forced a postponement of Monday's regularly scheduled game.
The teams picked up where they left off, with Fargo in front, 4-3. Jason James tied the game with a RBI double in the fourth inning.
Fargo loaded the bases with nobody out against Rockford reliever Brandon Todd (0-2) in the sixth. Campbell singled to left field to drive in the go-ahead runs. Nic Jackson led off the eighth inning with his fourth home run and Zach Penprase singled in an insurance run in the ninth inning.
T.J. Stanton (1-1), the fourth of seven Fargo pitchers, tossed 3 1/3 scoreless innings for the win.
The teams will make up the rainout as part of a doubleheader scheduled for 6:05 p.m. Tuesday.