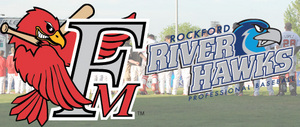 The Rockford RiverHawks used five first-inning runs and took advantage of four Fargo-Moorhead errors to defeat the RedHawks 9-6 on Friday night at a sold-out Newman Outdoor Field.
The RiverHawks (32-37) jumped on Fargo-Moorhead starter Tyler Seaman early. Rockford pounded out six hits in the first inning off the righty. Seaman also allowed a walk and hit a RiverHawk batter in the frame. Travis Scott, Patrick O'Sullivan and Evan McArthur all had RBI singles in the first for Rockford.
The RedHawks ( 40-27) chipped away at the lead over the ensuing innings. They scored a run in both the second and third innings and tallied four more in the fifth. Zach Penprase, Nic Jackson and Jay Cox each collected RBI singles for the RedHawks in the fifth.
The wheels fell off the Fargo-Moorhead defense in the late innings. The RedHawks committed four errors in the game and allowed Rockford four unearned runs from the seventh inning on.
Mike McTamney (2-1) pitched two scoreless innings in relief to pick up the win for Rockford. Scott Roehl tossed a perfect ninth and struck out two to collect his 13th save of the season.
Fargo-Moorhead's Casey Hoorelbeke (8-5) gave up two runs in 1.1 innings of action and was saddled with the loss. Hoorelbeke also committed a throwing error in the game.
Scott and McArthur were each 3-for-5 at the plate for the RiverHawks. O'Sullivan drove in a pair of runs for Rockford.
Nic Jackson and Alan Rick both went 2-for-4 in the game for the RedHawks with Jackson driving in two.
The two teams will meet again tomorrow night in the second game of their three game set. Rockford's Brad Durand (6-6, 5.67) is scheduled to take on Fargo-Moorhead's Jake Laber (7-2, 3.70).