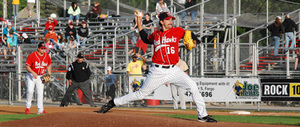 The Winnipeg Goldeyes (38-38) used a solid pitching performance from starter Stephen Flake and got just enough offence to dispose of the rival Fargo-Moorhead RedHawks (43-31) 3-0 Friday night at Canwest Park before 5,013.
Winnipeg scored twice in the fourth inning. Kevin West touched home plate on a Justin Justice sac fly and Juan Diaz scored off a Luis Alen single.
Fargo's best chance to score came in the seventh inning when it loaded the bases. However, Zach Baldwin, who relieved Flake earlier in the inning, got Alan Rick to ground out to end the threat.
A Brett Dowdy ground ball scored Aharon Eggleston from third base in the eighth inning to increase the Goldeyes lead to 3-0. Eggleston reached third with a triple to lead off the inning.
In addition to scoring a run, West and Diaz also led Winnipeg with two hits each.
Stephen Flake was outstanding, allowing just three hits over six and a third innings. He fanned five and walked a pair. Bobby Korecky pitched the ninth inning for his ninth save of the season.
T.J. Stanton takes the loss for Fargo.
The Goldeyes record improves to 2-2 against Fargo this season with the victory. Both have come against Stanton.
The game was delayed for one hour and 16 minutes because of standing water in the outfield, which was a result of a heavy downpour in the afternoon.
The two teams meet for Game 2 Saturday night at Canwest Park. Game time is 6 p.m.