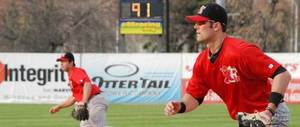 The Fargo-Moorhead RedHawks edged the Winnipeg Goldeyes 4-3 in pre-season Northern League baseball in front of 1,615 fans on Tuesday night at Newman Outdoor Field in Fargo.
RedHawks starter LHP Broc Coffman pitched three scoreless innings, while southpaw Scott Koerber earned the win, striking out one in as many innings. DH/C Kole Zimmerman's RBI single in the bottom of the eighth inning was the RedHawks' game-winning hit. 1B Jeremiah Piepkorn went 2-for-4 with one RBI.
Winnipeg DH Kevin West hit a two run home run to right center in the seventh inning. Between passed balls and wild pitches the RedHawks plated three of their four runs in the seventh.
The RedHawks continue the pre-season schedule with a game on Friday afternoon at Sioux Falls Stadium in Sioux Falls, SD against the Lincoln Saltdogs. Game time is 4:00 p.m.
<redhawks>