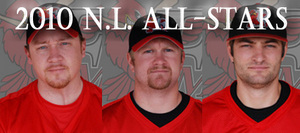 The awards keep coming for the back-to-back Northern League Champions. Fargo-Moorhead RedHawks 1B Jesse Hoorelbeke, 3B Eric Campbell and LHP Scott Fogelson have each been named to the Northern League Post Season All-Star Team.
Hoorelbeke finished the 2010 season batting .273 with 22 doubles, 29 home runs, 75 RBIs and 61 runs scored in 96 games. He was second in the Northern League in extra base hits and home runs, fourth in slugging percentage (.573), fifth in total bases (208) and was the Player of the Month for June. Hoorelbeke capped his year by being named Northern League Finals MVP as the RedHawks claimed the championship.
Campbell hit .311 with 19 doubles, 22 home runs, 80 RBIs and 72 runs scored in 85 games for Fargo-Moorhead. He was second in the Northern League in on-base percentage (.420), third in slugging percentage (.593) and fourth in RBI.
Fogelson ended the season with an 8-3 record with a 3.08 ERA in 18 starts. Fogelson pitched 105.1 innings and allowed 40 runs (36 earned) on just 90 hits. He finished fourth in the league in ERA and tenth in strikeouts. In addition, Fogelson was 2-0 in the post-season this year.
2010 NORTHERN LEAGUE POST SEASON ALL-STAR TEAM
C Richard Mercado Schaumburg Flyers/Joliet JackHammers
1B Jesse Hoorelbeke Fargo-Moorhead RedHawks
2B Jacob Blackwood Kansas City T-Bones
3B Eric Campbell Fargo-Moorhead RedHawks
SS Travis Brown Schaumburg Flyers
OF Kevin West Winnipeg Goldeyes
OF Keanon Simon Kansas City T-Bones
OF Ray Sadler Kansas City T-Bones
DH Josh Short Lake County Fielders
RHP Willie Glen Gary SouthShore RailCats
LHP Scott Fogelson Fargo-Moorhead RedHawks