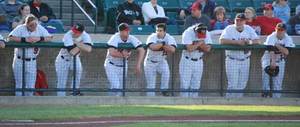 The Winnipeg Goldeyes swept a three-game series with the Fargo-Moorhead RedHawks behind a 6-4 win at Newman Outdoor Field in front of 3, 938 fans on Thursday afternoon.
For the second time in as many games the Winnipeg Goldeyes hit a first inning homerun. 3B Brent Metheny hit a solo shot for his first homerun of the season to give the Goldeyes a 1-0 lead.
The Goldeyes loaded the bases and benefited from three singles and three errors to plate four runs in the fourth.
RedHawks 1B Randall Simon went 3-for-4 with two singles and a two-run homerun. In the sixth inning Simon and RF Jeremiah Piepkorn each hit singles to score 3B Yurendell DeCaster from third to make it a 5-3 ballgame.
Leadoff hitter RedHawks SS Zach Penprase hit a seventh inning single and scored on CF Nic Jackson's sac fly.
Goldeyes LF Cory Patton scored on a throwing error in top of the eighth to give the Goldeyes a 6-4 lead.
Goldeyes southpaw Zach Baldwin (1-0) pitched 1.2 innings with two strikeouts for his first win of the season.
Redhawks starter RHP Garry Bakker (1-1) suffers the loss. Bakker pitched 6.1 innings with nine strikeouts and one walk.
The RedHawks will depart today and start a six-game road trip to Gary and Schaumburg. The RedHawks will send RHP Billy Weitzman to the mound against Gary on Friday night.