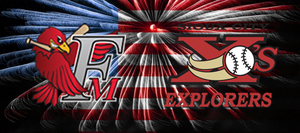 July 5, 2011 - Sioux City, Iowa. The RedHawks got what they desperately needed, an offensive outburst that brought an end to their losing streak, as Fargo-Moorhead defeated the Sioux City Explorers 16-6 at Lewis and Clark Park.

The RedHawks offense exploded with five home runs – two each by Jesse Hooorelbeke and Carlo Cota and Phil Britton added a solo shot in the 18 hits against three Sioux City pitchers. The RedHawks jumped on Explorers starter Ty Marotz for four runs in the first inning and virtually put the game away when they scored seven runs in the fourth. The Explorers had cut the lead to 5-3 in the third inning, but the seven run fourth sealed the deal for the RedHawks. Fargo starter Alex Caldera threw six strong innings allowing three runs while picking up his fifth win of the 2011 season.

The RedHawks will have an off day Wednesday before starting a four-game series on Thursday with Winnipeg at Newman Outdoor Field.