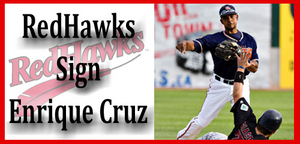 The
Fargo-Moorhead RedHawks have signed former Major League INF Enrique Cruz to a contract
, the club announced today. Cruz is the 13
th
player and 6
th
position player signed by the RedHawks for the 2012 season.
Cruz, 30, batted .361 with 28 doubles, four triples, 14 home runs, 66 RBIs and 72 runs scored in 85 games for the Edmonton Capitals of the North American League in 2011. He was named a post-season All-Star in the North American League as he helped lead the Capitals to the league title
.
Cruz also played in Edmonton in 2010 and batted .381 with 18 doubles, one triple, six home runs, 34 RBIs and 53 runs scored in 60 games
. He did not play professionally in 2009.
Cruz began his professional career in 1999 after signing with the New York Mets organization as a non-drafted free agent. He was selected by the Milwaukee Brewers in the Major League portion of the 2002 Rule 5 Draft and spent the entire 2003 season with the Brewers Major League club
. Cruz also appeared in one game for the Cincinnati Reds in 2007, and played at the Double-A or Triple-A level from 2005-2008.
"We really like the flexibility Enrique gives us around the infield,"

said RedHawks Manager Doug Simunic

. "He can play third, second or shortstop, and he's a professional hitter who's had success at the highest levels. He's an interesting player to bring into the mix."