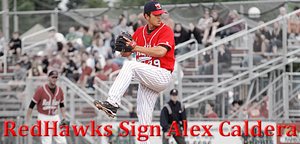 The Fargo-Moorhead RedHawks rotation got a big boost today as RHP Alex Caldera will return to the club for the 2012 season.
Caldera, 26, was 7-3 with a 3.07 ERA and two saves in 18 games (ten starts) for the RedHawks in 2011
. He pitched 73.1 innnings and allowed 35 runs (25 earned) on 60 hits. Caldera struck out 66 batters and walked 40.
Caldera had his contract purchased in early August by the Florida Marlins organization and was assigned to the Greensboro Grasshoppers of the South Atlantic League (A), where he was 3-1 with a 3.77 ERA in six starts
. With Greensboro, Caldera pitched 31.0 innings and allowed 16 runs (13 earned) on 27 hits. He struck out 33 batters and walked 13.
Caldera was originally selected by the Kansas City Royals organization in the 13th round of the 2007 draft
. He advanced as high as the Northwest Arkansas Naturals of the Texas League (AA) in 2010.
"We expect Alex to be a main cog in our rotation this year," said RedHawks Manager Doug Simunic. "We got a taste of what he can do last season, and hopefully he can come in and put up similar numbers this summer."