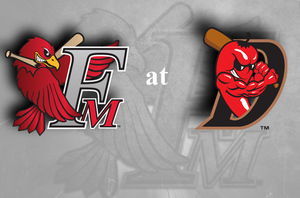 Every RedHawk batter in Saturday night's lineup was able to get at least one hit, with 15 hits as a team.

Jake Laber took the mound for the RedHawks and ran into trouble right off the bat. Laber gave up a pair of singles in the first and an error helped plate the first run of the game for the El Paso Diablos. The Diablos added another run in the third inning to take an early 2-0 lead.

Then the Fargo bats came alive. Aharon Eggleston delivered a clutch two-out two-run double to tie the game in the forth. Laber couldn't hold it, and after allowing another run in the 5th was replaced by Paul Burnside. Burnside got the RedHawks out of the inning and went on to put up zeros in the 6th, 7th and 8th.

Zach Penprase started the top of the 7th with a double that was followed up by a Nic Jackson home run to give Fargo a 4-3 lead. The RedHawks never looked back, scoring 3 runs in the 7th, 1 in the 8th and 2 in the 9th.

Burnside started the 9th inning but ran into trouble, and with two out and runners on first and third Tom Boleska got Javier Brito to ground into a 4-6 fielder's choice to end the game.

Burnside got the win and Boleska picked up his second save of the season. Ronny Morla got the loss for the El Paso Diablos.
Click here for the box score