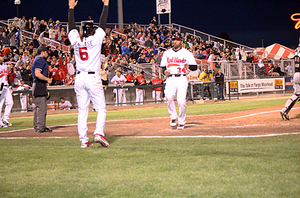 Fargo, ND – The Sioux Falls Pheasants used a two-run home run in the top of the eleventh to win 4-2 and spoil the Fargo-Moorhead RedHawks home
opener in front of a sell-out crowd of 4,707 at Newman Outdoor Field.

The Pheasants began the top of the eleventh with a groundout by Jared Bolden then a walk by Cesar Nicholas. With one out, Cristian Guerrero hit a
two-run homerun over the left field fence to give the Pheasants a two run lead which would lead to the eventual 4-2 score.

The Pheasants lead through most of the game until the bottom of the eighth inning. Nic Jackson and Zach Penprase both singled then stole third
and second respectively before Enrique Cruz would hit a single up the middle to give the RedHawks their first lead of the game 2-1.

The RedHawks rally would be ruined in the top of the ninth inning. With two outs, Cesar Nicolas struck out swinging but reached first on an error
by RedHawks catcher Todd Jennings. Jonny Kaplan would cross home plate during the play and tie the game 2-2.

Both starting pitchers were successful in their outings. Phesants starter Allen DeRatt pitched six innings only allowing three hits and no runs
with six strikeouts. RedHawks starter Jake Laber gave up eight hits and one earned run in 5.2 innings pitched.

Earning the win for Sioux Falls was Kyle Mertins who picked up his first decision of the year. RedHawks reliever Tyler Herron pitched the
eleventh inning and picked up the loss giving up two-earned runs which gives him a 0-1 record on the season

The Pheasants were led at the plate by Mark Shorey who batted 4-for-6 and Jonny Kaplan who went 2-for-3 with a double and two RBIs.

RedHawks outfielder Nic Jackson continued hitting well leading the team going 2-for-3 with a double. Six different players for Fargo-Moorhead had
a hit in the game.

The RedHawks and Pheasants continue their three-game tomorrow starting at 6:00 p.m. at Newman Outdoor Field. The probable starters are Alex
Cardera for Fargo-Moorhead and Matthew Sommo for Sioux Falls.


|
Back to index...