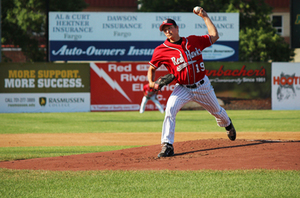 Winnipeg scored eight runs on seven hits in the sixth and starter Chris Salamida went 7 1/3 innings for the Goldeyes to lead them to a 9-4 victory over the Fargo-Moorhead RedHawks in front of a crowd of 3,095 at Newman Outdoor Field on June 9, 2012.
The RedHawks had an early 1-0 lead going into the sixth before the Goldeyes bats came alive. Winnipeg batted through the lineup in the inning with Jon Weber reaching base twice and Yurendell de Caster getting a single and a double in the inning to lead the Goldeyes' eight run barrage.
The RedHawks would pick up three runs in the eighth. Ryan Delgado reached on an error, Nic Jackson singled, and Todd Jennings hit an RBI single to start the inning for Fargo-Moorhead. After a Ryan Stovall groundout scored another RedHawk run, Kaohi Downing got the Goldeyes out of a bases load jam when Price Kendall threw out Sergio Perdoza as he rounded third to end the threat.
Winnipeg scored another run in the ninth before the RedHawks went down in order in the bottom of the inning to end the ball game.
Salamida and RedHawks starter Jake Laber shut down the opposing lineups early, with no runs scoring until the fifth inning. However, Laber struggled in the sixth and was pulled for Kevin Fuqua. Two earned runs would be credited to Laber as he picked up the loss and dropped to 0-3 this season.
Salamida would leave in the eighth inning after a Marcos Rodriquez line drive deflected off him. He picked up his first win of the season after giving up six hits and one earned run through 7 1/3 innings. Dexter Carter picked up an out for Winnipeg before Downing came in to finish the last 1 1/3 innings for the Goldeyes and pick up his first save of the season.
Yurendell de Caster batted 3-for-4 with a double and an RBI for Winnipeg. Chris Roberson and Jon Weber both went 2-for-5 while combining for three RBIs.
Fargo Moorhead's Aharon Eggleston led the team going 2-for-3 at the plate while Ryan Delgado had the only extra base hit for the RedHawks with his first inning double.

The RedHawks and Goldeyes conclude their three-game series tomorrow at 1 p.m. at Newman Outdoor Field.