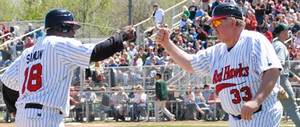 The Fargo-Moorhead RedHawks scored 13 runs in the first two innings of the game and defeated the Kansas City T-Bones 16-14 on a fireworks Friday night in front of 4,607 fans at Newman Outdoor Field. RedHawks reliever LHP Adam Rowe (1-0) wins his first game of the season and RHP Elvys Quezada earned the save. T-Bones RHP Daniel Sattler (1-2) suffers the loss.
3B Brad Correll cracked the first of the games six home runs and the T-Bones benefited from two RedHawks errors for a five-run first.
Not to be outdone, the RedHawks DH Mike Coles and CF Nic Jackson led off the home half of the first with a pair of singles to right-center. 3B Yurendell DeCaster and 1B Randall Simon one-upped Coles and Jackson with a pair of doubles to make it 5-3 T-Bones. RF Jeremiah Piepkorn hit a single to plate Simon from second and the RedHawks benefited from a T-Bones error to cap their six-run first.
T-Bones RF Greg Jacobs smashed a second inning solo shot to tie it 6-6. The RedHawks responded with a pair of home runs from Simon and Piepkorn to make it 10-6 for Fargo-Moorhead. LF Justin Justice hit his league-leading fifth triple of the season and Coles hit his second single of the game to give the RedHawks a 13-6 lead after two innings.
The T-Bones hit a pair of homeruns in the top of the third with Correll cracking his second homerun of the game and LF Ryan Fox notching his seventh of the season. Leading off the T-Bones fifth Fox doubled to dead center to plate Fasano and advance Correll to third. Jacobs hit a two-run double to the gap in left-center to tie the game at 13 all.
Stanton left the game in favor of reliever LHP Adam Rowe, whose wild pitch surrendered the go-ahead run to Correll and gave the T-Bones a 14-13 lead. RedHawks 2B Carlo Cota tied it at 14-14 with an RBI single to left in the sixth. DeCaster's eighth inning double short hopped the wall and scored Coles and Jackson to give the RedHawks the 16-14 lead and later the victory.
The RedHawks and T-Bones play tomorrow at 6:00 p.m. at Newman Outdoor Field. LHP Scott Fogelson will get the call for Fargo-Moorhead, while the T-Bones will counter with RHP Chris Rhoads. Fans can purchase tickets for all future RedHawks home games by calling 701-235-6161, online at
www.fmredhawks.com
or by stopping by the Newman Outdoor Field ticket office.
|
Back to index...