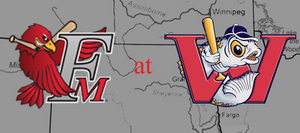 The Fargo-Moorhead RedHawks (23-21) and the Winnipeg Goldeyes (26-18) exchanged the lead five times on Wednesday, but the Fargo-Moorhead RedHawks ended up on top with a 5-3 win over the Winnipeg Goldeyes. After scoring 3 in the 9th to win Tuesday night, the RedHawks follow up with a four run rally in the 8th inning Wednesday night to beat Winnipeg for the 5th consective meeting.

Buddy Sosnoskie racked up two RBIs on one hit for the Fargo-Moorhead RedHawks. Sosnoskie hit his firs professional homer in the third inning and made a running catch down the line with Goldeye runners on first and second in the 8th inning.

Kyle Dahman ended the Goldeyes 7th inning and improved to 1-0 on the year by picking up the win for the Fargo-Moorhead RedHawks. He struck out none, walked none and surrendered no hits. Tom Boleska came on for the save, his 12th of the season.
Billy Spottiswood ended up on the wrong side of the pitching decision, charged with his first loss of the year. He lasted just one-third of an inning, walked none, struck out none, and allowed three runs.

RedHawks continue their series with the Goldeyes at 7:00 Thursday night, sending RHP Paul Burnside (4-3, 2.70) vs. Winnipeg's LHP Tony Butler (2-2, 4.03). Listen live on AM 740 The Fan or from www.fmredhawks.com.