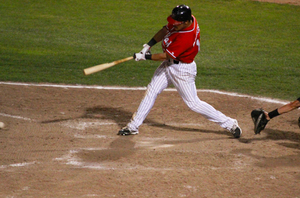 The Fargo-Moorhead RedHawks rallied from four runs down in the 9th and Buddy Sosnoskie hit a walk-off single in the tenth to defeat the T-Bones 10-9 in extra innings and extend a seven-game winning streak on July 9, 2012 at Newman Outdoor Field.
The RedHawks began the ninth with singles by Marcos Rodriguez, Todd Jennings, and Zach Penprase which cut the T-Bones lead to 9-6. After a Buddy Sosnoskie strikeout, Nic Jackson hit an infield pop-up with two outs that was dropped by Kansas City third baseman Enrique Cruz. Jennings scored on the play and Jackson reached base cutting the deficit to 9-7.
Eric Campbell walked to load the bases for Ryan Delgado. T-Bones reliever Mike Mehlich would strikeout Delgado, but a wild pitch would allow Penprase to score as well as Jackson tying the score at 9-9 after a throwing error by T-Bones catcher Bubby Williams.
RedHawks reliever Kyle Dahman pitched a clean 10th to set-up the RedHawks lineup. Rodriguez began the inning with a walk and advanced to second on a sacrifice bunt by Jennings. Ryan Stovall came in to pinch run for Rodriguez and would steal third during Carlo Cota's at-bat. T-Bones reliever Jake Wiley intentionally walked the next two batters to load the bases with one out for Buddy Sosnoskie. Sosnoskie finished off the Fargo-Moorhead rally with a first pitch single to right field to give the RedHawks the 10-9 win in 10 innings.
Marcos Rodriguez was 4-for-4 with three runs, Todd Jennings was 3-for-4 with two runs, Zach Penprase was 2-for-5 with two runs, and Buddy Sosnoskie was 3-for-6 with three RBIs for the RedHawks.
Sosnoskie described what he was thinking on his walk-off single after getting a shaving cream pie to the face by a teammate.
"I was thinking early action," said Sosnoskie, "try to stay away from a breaking ball and just slap it and run."
Alex Caldera picked up a no decision for Fargo-Moorhead (28-21), pitching the first 6+ innings and giving up three earned runs on three hits, three walks, with four strikeouts. Five different RedHawks pitched in relief, with Kyle Dahman (2-0) picking up the win after throwing 2 1/3 innings giving up one hit and one strikeout.
Spiker Helms went 2-for-2 at the plate for the T-Bones with a home run in the fifth that tied the game, 5-5 at the time. Kansas City (27-24) was down early but got four runs in the eighth on a Helms walk that scored Ray Sadler and a throwing error brought in three more runs.
Josh Rainwater started for the T-Bones and pitched 6 2/3 innings giving up five runs (four earned) on 11 hits with five strikeouts. Jake Wiley (1-5) picked up the loss, pitching 1/3 inning and allowing the walk-off single after three walks loaded the bases.
The RedHawks and T-Bones conclude their four-game series at Newman Outdoor Field Tuesday night at 7:02 p.m.