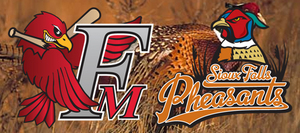 SIOUX FALLS – The Sioux Falls Pheasants brought the Fargo-Moorhead RedHawks 14-game winning streak to end on Wednesday night while snapping their own four-game losing skid with a 5-3 victory.
Inheriting a 4-3 lead in the sixth inning, four Pheasants relievers combined to shut out Fargo-Moorhead to salvage the finale of the three-game series in front of 2,179 fans at Sioux Falls Stadium.
Lefty Jack Van Leur entered in the sixth in relief of starter Mitchell Clegg (5-3) with two runners on, and induced Buddy Sosnoskie to fly out and end the inning.
Dan Cooper pitched a scoreless seventh, helped by catcher Al Quintana throwing out a base stealer from his knees and two sparkling plays from the infield. Kyle Mertins tossed a 1-2-3 eighth inning, and Cody Evans followed up by striking out the side in order in the ninth.
"With Fargo playing so well and our guys playing so well all day, there was definitely extra energy." said Evans, whose fastball touched 97-mph in the ninth inning. Evans also said he drew extra inspiration from his colleagues in the bullpen. "Baseball is all about confidence....When you see a guy go ahead of you and do well, it gives you confidence."
The Pheasants bullpen has allowed just one run in the last seven games (21 innings pitched). Their collective season ERA is just 3.34. Cooper ran a scoreless streak to 15 innings over 11 appearances, and Kyle Mertins lowered his season ERA to a miniscule 1.15.
"Both [Dan Cooper and Kyle Mertins] will attack the strike zone and make solid pitches," said Pheasants manager Steve Shirley. "Mertins throws hard and attacks the zone with a really good slider, and Cooper does the same thing with a sinker-slider. Most of the time when they attack the strike zone, we get really good results."
Jared Bolden broke a scoreless tie in the third inning with a bunt single that scored Nick Judkins and opened the door to a four-run rally. Cesar Nicolas launched a two-run, sun-aided double, and Cory Morales drove in a run with a two-out single.
The RedHawks (35-22) rallied for three runs in the sixth, capped by Zach Penprase's two-run, two-out single, but Van Leur came in to retire the final batter.

Morales provided the Pheasants insurance with a sacrifice fly in the seventh inning. He finished 1-for-3 with two RBI in his second game since returning from the disabled list.
"We needed this win badly. It didn't matter who the opponent was," said Shirley on halting the RedHawks' league best win streak one game shy of tying a league mark while the Pheasants (28-29) deal with numerous injuries. "These guys are working extremely hard. We needed a victory. For the effort they are putting in on a daily basis and for what we are going through right now, pulling a victory out was very exciting."
Cesar Nicolas was 2-for-4 with two RBI, and Jared Bolden had a pair of bunt singles.

Clegg earned the win with 5 2/3 innings pitched, allowing three runs on eight hits. He walked one and struck out four.

Fargo-Moorhead starter Jake Laber (2-5) suffered the loss. He gave up four runs in five innings on seven hits.

The RedHawks travel to Wichita for a four game series against the AA Central Division leading Wingnuts.