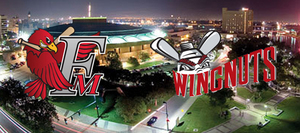 WICHITA, KS- The Wichita Wingnuts (34-24) lost 11-7 to the Fargo-Moorhead RedHawks (36-22) at Lawrence-Dumont Stadium on Thursday night.

Fargo hit four home runs during the game, and scored five times in the top of the fifth to overcome a 6-4 Wingnuts' lead.
Nick Jackson started Fargo's fifth-inning rally with a solo home run on a line drive that just cleared the center field fence. Eric Campbell followed with a double to right-center, while Jon Gaston was hit by a pitch to put runners on first and second. Ryan Delgado homered on a high flyball to left field, giving the RedHawks an 8-6 lead. Marcos Rodriguez doubled down the right field line and scored two batters later on Carlo Cota's line drive single to left.
Wichita pulled within 9-7 in the bottom of the sixth. Jessie Mier doubled to deep center field leading off. Joe Harris relieved RedHawks' starter Tyler Herron, and allowed a triple down the right field line to Mike Conroy. Harris then retired the next three hitters to prevent Conroy from crossing the plate. The triple was Wichita's final base hit of the night.
Jared Simon, Nick Walters, and Edgar Martinez combined for three and one-third perfect relief innings.
In the top of the ninth, Eric Campbell hit a two-run home run to center field against Matt Nevarez to extend Fargo's lead to 11-7.
Tom Boleska closed out the game with a perfect bottom of the ninth.
Campbell gave Fargo an early lead with a two-out, RBI single up the middle in the bottom of the first that scored Zach Penprase from third base. Gaston made it 3-0 with a two-run homer to deep right.

Recap via wichitawingnuts.com
Wichita scratched out their first run in the bottom of the inning. Ryan Khoury led off with a double down the left field line, took third on Jared McDonald's deep flyball to left, and scored on John Rodriguez's sacrifice fly to center.
The Wingnuts moved in front with a four-run bottom of the third. After there were two outs and no one on base, singles from Rodriguez and Jairo Perez set up David Peralta's RBI double to right field that scored Rodriguez with the Wingnuts' second run. Newcomer Mark Wagner put Wichita in front, ripping a double down the left field line that scored Perez and Peralta. Gerardo Avila drove in the final run of the inning with a groundball, RBI single to right.
The team's traded runs in the fourth. Fargo cut Wichita's lead to 5-4 on a sacrifice fly from Cota. Rodriguez lined a two-out, RBI double to right-center in the bottom of the inning to score Conroy from second base.
Derek Blacksher started for the Wingnuts and took the loss. Blacksher allowed nine earned runs on 12 hits in four and two-thirds innings. Blacksher walked none and struck out one.
Herron earned the win, allowing seven runs, six earned, on 10 hits in five-plus innings. Herron walked none and struck out four.
Harris worked three scoreless innings of relief.
Wagner was signed prior to Thursday's game. The right-handed hitter is in his eighth season of professional baseball, and was a member of the Boston Red Sox' 40-man roster in 2009 and 2010. A catcher, Wagner has thrown out 34% of opposing base stealers in his career. The Long Beach, CA native is a lifetime .264 hitter with 51 home runs and 277 RBI in 513 games played. Thursday was Wagner's first career start at third base.
The Wingnuts and RedHawks continue their series on Friday night at 7:05 p.m. Ryan Hinson faces right-hander Alex Caldera.