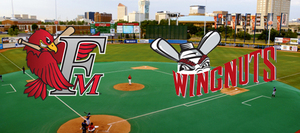 Recap via wichitawingnuts.com

WICHITA, KS- The Wichita Wingnuts (35-25) defeated the Fargo-Moorhead RedHawks (37-23) 6-1 at Lawrence-Dumont Stadium on Saturday night.
Wichita's offense used three clutch hits over the course of the game to support seven strong innings from Josh Lowey who earned his 10th win of the season.
Trailing 1-0 in the bottom of the second inning, Mark Wagner drew a one-out walk. Gerardo Avila followed with a towering, opposite field home run to left-center that gave the Wingnuts the lead for the remainder of the night.
Lowey protected the lead through seven innings, allowing one earned run on six hits. Lowey walked two and struck out four. Lowey becomes the fourth pitcher in franchise history to reach double digit victories in a single season.
In the bottom of the sixth, Jairo Perez bunted for a single along the third base line to extend his hitting streak to nine games. Perez stole second and came around with Wichita's third run on David Peralta's RBI double down the right field line.
Fargo put the tying runs on base against Lowey with one out in the top of the seventh. Lowey ended the threat with back-to-back strikeouts of Carlo Cota and Zach Penprase to end the inning. The consecutive punchouts came on just six total pitches.
Wichita broke the game open in the bottom of the seventh. With two outs and no one on base, Ryan Khoury lined a single to right field. Mike Conroy drew a walk before Mike Zenko relieved RedHawks' starter Paul Burnside. After Khoury and Conroy pulled off a double steal, Steve Carrillo walked to load the bases. Perez pulled a single through the left side to score Khoury and Conroy. Perez then evaded a rundown play between first and second that allowed Carrillo to score the Wingnuts' sixth run.
Fargo loaded the bases with one out in the top of the eighth. Jared Simon relieved Nick Walters and induced a home-to-first double play groundball from Ryan Delgado. Simon threw a perfect top of the ninth to record his first save of the year.
Burnside took the loss, allowing five earned runs on six hits in six and two-thirds innings. Burnside walked four and struck out three.
Fargo's lone run came in the top of the second on an RBI double down the left field line from Marcos Rodriguez.
Wingnuts' designated hitter John Rodriguez--a .298 hitter in 158 career Major League games--was ejected in the bottom of the third inning along with manager Kevin Hooper and Pitching Coach Luke Robertson following a called third strike.
The Wingnuts and RedHawks conclude their series Sunday afternoon at 2:05 p.m. Wichita's starter is to be determined. Fargo goes with former Wichita State Shocker Aaron Shafer.