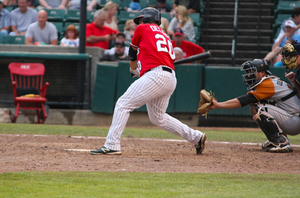 Ryan Delgado batted 3-for-5 with a three- run home run and six RBIs in a Fargo-Moorhead 11-8 victory over the Sioux Falls Pheasants in front of a sell-out crowd of 4,513 on July 24, 2012 at Newman Outdoor Field.
The RedHawks have won a season-high nine consecutive home games and are now 18-13 at home this season.
Fargo-Moorhead began the game with an early lead after Delgado hit his 11th home run of the season giving the RedHawks a 5-0 first inning lead.
Sioux Falls fought back in the fifth scoring five runs. The Pheasants picked up four singles in the inning cutting the deficit to 6-5.
Carlo Cota hit the eventual game winning run with a two-run double down the left field line that scored Jon Gaston and Delgado and gave the RedHawks a 10-5 lead.
Cesar Nicolas hit a three run home run in the eighth but Sioux Falls was shut down in the ninth by RedHawks closer Tom Boleska.
Jon Gaston was 4-for-4 with a double and three runs scored, Ryan Delgado went 3-for-5 with a home run, two runs scored and six RBIs, while Carlo Cota was 2-for-4 with a double and two RBIs for Fargo-Moorhead (39-23).
Jake Laber (3-5) picked up the win for the RedHawks pitching the first 5 1/3 innings while giving up five runs (three earned) on seven hits, five walks and a strikeout. Kevin Fuqua pitched 2 innings of relief giving up only one run on two hits, Joe Harris pitched 2/3 inning giving up two runs and Tom Boleska pitched a perfect ninth for his league-leading 19th save of the season.
Sioux Falls (29-33) starter Mitchell Clegg dropped to 5-4 after pitching 4 2/3 innings and giving up nine runs (seven earned) on 10 hits with two walks and five strikeouts. Five different relievers pitched for the Pheasants combining to give up two earned runs in 3 1/3 innings.
Cesar Nicolas batted 2-for-3 with a home run, two runs and 3 RBIs and Jake Taylor was 3-for-5 with a double and an RBI.
The RedHawks and Pheasants continue their three-game series at Newman Field tomorrow night at 7:02 p.m. Tickets are available at fmredhawks.com or by calling (701) 235-6161.