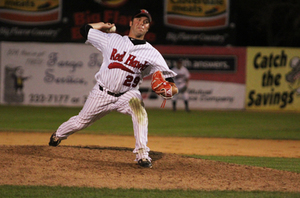 Fargo, ND -- The Fargo-Moorhead RedHawks won their 10th straight home game by fending off two late inning rallies by the Sioux Falls Pheasants for a 4-3 victory on July 25, 2012 at Newman Outdoor Field.
Jared Bolden hit a one-out double down the left field line in the eighth to put a runner in scoring position for Sioux Falls who were down 4-3. Kyle Dahman came in to pitch for the RedHawks and stranded Bolden on third after a fly-out to right field and a line drive that was caught by third baseman Eric Campbell.
The Pheasants again attempted a rally in the ninth. RedHawks closer Tom Boleska gave up two-out singles to Al Quintana and Joe Anthonsen before Jonny Kaplan hit into a fielder's choice, giving Boleska his league-leading 20th save of the season.
RedHawks starter Tyler Herron (6-3) picked up his fourth consecutive win after giving up eight hits on three runs (two earned) with eight strikeouts in 6+ innings pitched. Relievers Joe Harris, Kyle Dahman, and Tom Boleska combined to give up three hits in three scoreless innings.
Rod Scurry (3-5) pitched 6 innings giving up six hits, four earned runs, two walks, with seven strikeouts in the loss. Dan Cooper and Jack Van Leur combined to pitch 2 innings of scoreless relief for Sioux Falls.
Fargo-Moorhead (40-23) was outhit by Sioux Falls 6-11. Buddy Sosnoskie hit a two-run home run in the first, Jon Gaston hit a solo home run in the fourth, and Carlo Cota hit an RBI double in the fourth for the RedHawks.
Al Quintana led Sioux Falls (29-34) at the plate going 3-for-4 with a double. Cesar Nicolas was 2-for-4 with an RBI and a run scored, Jared Bolden went 2-for-4 with a double, and Christian Guerrero hit an RBI double in the in the fourth.
The RedHawks and Pheasants conclude their three-game series tomorrow at 12:30 p.m. at Newman Outdoor Field. The RedHawks have won 31 of their last 37 games and are now three-games ahead of the Winnipeg Goldeyes for first place in the North Division. Tickets are available at fmredhawks.com or by calling (701) 235-6161.