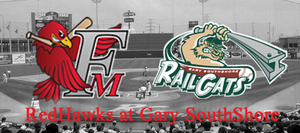 GARY, Ind. - For the second straight game, the RedHawks (43-23) delivered a ninth-inning outburst, defeating the RailCats 9-2 on Saturday night in front of a season-high crowd of 5,279 at the Steel Yard. With the win the RedHawks have won six straight games and lead the AA North by 5 games over Winnipeg.
RedHawks second baseman Carlo Cota led off the third inning with a double to the wall in left off of RailCats starter Morgan Coombs. The next batter, Zac Penprase, tripled to the gap in right to give Fargo-Moorhead the lead. Eric Campbell drilled an RBI single to center to put the RedHawks on top 2-0.
The RailCats got a run back in the fourth, as Brian Kolb walked and Mike Rohde singled. RedHawks right fielder Ryan Stovall misplayed Rohde's hit and Kolb came all the way around to score to pull the 'Cats to within 2-1.
Stovall redeemed himself in the fifth, crushing a solo homer to left that was ruled fair, despite arguments from the RailCats that it was foul. It was his second homer in as many nights. The next pitch was hammered over the right field wall by Nic Jackson to give Fargo a 4-1 advantage.

Just like in Friday night's game, the RedHawks blew it open in the top of the ninth. After a pair of walks and a single loaded the bases, Nic Jackson hit a two-run single to make the score 6-1 in favor of Fargo-Moorhead. Eric Campbell followed that with a three-run bomb to left-center that gave the RedHawks the 9-1 lead. Over the last two nights, they have scored nine runs in the ninth inning against the 'Cats.
Adam Klein drew a bases loaded walk in the bottom of the ninth to finish the scoring. It was Klein's league-leading 53rd base on balls this season.

Aaron Shafer (6-4) struck out seven RailCats over seven innings with only one earned run and five hits allowd to pick up the victory. Coombs (4-6) allowed four runs over seven inning, settling down nicely after the back-to-back home runs. Fargo-Moorhead's starter Aaron Shafer kept the RailCats' bats silent, allowing just a run over seven innings, striking out seven to improve to 6-4 on the season.
The series finale will be on Sunday at 2:10. Will Krout (2-3, 3.31) will make his first start since his four-hit shutout of Sioux City on Tuesday.