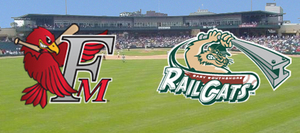 Jake Laber kept the Gary SouthShore RailCats (30-38) off the board during his seven innings of work and the Fargo-Moorhead RedHawks (44-23) beat the Gary SouthShore RailCats, 14-3. Laber allowed nine hits, two walks and struck out three.
The Fargo-Moorhead RedHawks blew out the Gary SouthShore RailCats thanks to 22 hits including every member of the RedHawks lineup getting not only one hit but at least two a piece. The first four batters set the tone for the game as Zach Penprase started the game with a standup triple, followed by a double by Buddy Sosnoskie, and hits by Nic Jackson and Eric Cambell to make it 3-0 Fargo-Moorhead in the 1st.
Jackson, Campbell, and Ryan Delgado each had three RBIs in the game. Jackson's league leading total is now up to 70 on the season.
Will Krout (2-4) took the loss for the Gary SouthShore RailCats. He allowed eight runs in seven innings, walked none and struck out none.
With the RedHawks already leading 12-0 Fargo-Moorhead reliever Mike Zenko allowed Gary SouthShore to score two runs in the bottom of the 8th, and another in the 9th.
The RedHawks have won seven straght games and continue their seven gam road trip in St. Paul starting Monday night. Following the series vs. the Saints the RedHawks play 13 of their next 16 games in front of their home fans at Newman Outdoor Field.