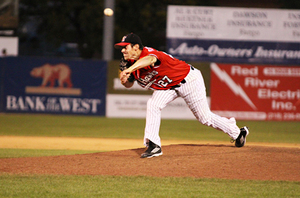 Fargo, ND – The St. Paul Saints defeated the Fargo-Moorhead RedHawks 8-2 on August 7, 2012 at Newman Outdoor Field behind a strong effort from Saints starter Luke Anderson, ending the RedHawks 14-game home winning streak.
Former North Dakota State standout Luke Anderson (4-1) earned the victory in his first start at Newman Outdoor Field. Anderson pitched 8 2/3 innings, giving up eight hits, striking out six, walking two and allowing two earned runs on solo home runs by Eric Campbell in the fourth and Jon Gaston in the seventh.
Anderson had plenty of runs to work with as the Saints lineup jumped out to a 6-0 lead through the first four innings of play.
Adam Frost was 3-for-5 with an RBI triple in the first and a two-run single in the fourth, Jose Hernandez hit 2-for-5 with an RBI double in the third, Ole Sheldon was 2-for-5, and Willie Cabrera went 2-for-4 with two runs and two RBIs, including a solo home run in the seventh to highlight the St.Paul Saints (39-36) at the plate.
RedHawks starter Paul Burnside (8-5) suffered the loss after pitching 3 2/3 innings giving up six earned runs on eight hits, four walks, while striking out three. Mike Zenko pitched two innings of relief giving up an earned run on three hits while striking out four.
Newly acquired Dakota Wesleyan (SD) graduate Ethan Opsahl gave up only one earned run in his professional debut. Opsahl pitched 2 1/3 innings of relief, walking one and striking out two batters for the RedHawks (49-26).
The RedHawks and Saints continue their three-game series tomorrow night at 7:02 p.m. at Newman Outdoor Field. Tickets are available at fmredhawks.com or by calling (701) 235-6161.