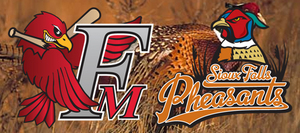 (courtesy of www.sfpheasants.com)

SIOUX FALLS -- The Sioux Falls Pheasants and Fargo-Moorhead RedHawks combined for five home runs, but it was Eric Campbell's that sealed the deal in the RedHawks' 8-6 victory Friday night.
After Sioux Falls scored one run in the bottom of the ninth to send it to extra innings, the RedHawks quickly regained the lead. Buddy Sosnoskie started the tenth with a double, and after Nic Jackson grounded out, Campbell sent one out of the park for the 8-6 lead.
Tom Boleska (2-1) picked up the win for the RedHawks. He pitched the ninth inning and gave up one unearned run on one hit. Kyle Dahman earned his first save of the year, sending the Pheasants down in order in the tenth inning.
Sioux Falls was led early with Cory Morales' solo home run, but the RedHawks jumped ahead with five runs in the third inning. They scored four runs with two outs, highlighted by Jon Gaston's three-run blast for a 5-1 lead.
"That's the story of our year, we couldn't get the pitch to stop the bleeding," said Pheasants pitching coach Mike Meyer. "It seems like any time we get an inning where they get a couple cheap hits; we can't get out of it with two runs. It's always a five-spot."
The Pheasants have allowed five runs or more in one inning on 21 occassions this year.
The Pheasants clawed their way back in the fourth inning with RBI singles by Cristian Guerrero and Jake Taylor to make it 5-3.
Fargo-Moorhead answered in the top of the fifth inning with Nic Jackson's solo home run, putting them ahead 6-3.
Cesar Nicolas responded in the bottom of the fifth with a two-run bomb to narrow the RedHawks advantage to 6-5.
Outside the five-run third inning, Pheasants starter Rod Scurry otherwise held the RedHawks to one run on three hits. He ended up with a no decision, throwing seven innings and matched a season-high with seven strikeouts and also walked two.
"When he was able to get ahead in the count with his sinker and curveball he was really effective," said Meyer. "When he does that, he's really effective. But sometimes he gets in his own way and tries to do too much."
Sioux Falls sent the game into extra innings with the help of an error. Joe Anthonsen softly lined a single to left field, and a throw to third base went into the dugout, allowing Jake Taylor to come home.
The normally untouchable Kyle Mertins (2-1) suffered the loss for the Pheasants, giving up the two-run homer and three hits in the tenth inning.
Pheasants pitching still notched 11 strikeouts on the night.
Game two of the three-game series with the RedHawks is at 6:05 p.m. on Saturday, August 11 at Sioux Falls Stadium.