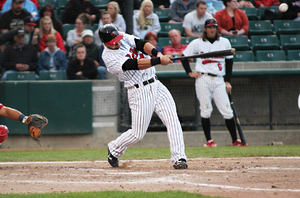 Fargo, ND – Zach Penprase hit a two-run home run in the ninth but it was not enough as the Winnipeg Goldeyes defeated the Fargo-Moorhead RedHawks 8-6 on August 15, 2012 at Newman Outdoor Field.
The loss ended a nine-game winning streak for the RedHawks (54-29)over the Goldeyes (48-34) that dated back to June 21 and are now 5.5 games ahead of Winnipeg in the North Division Standings.
Mike Coles was 2-for-5 with two doubles and three runs, Chris Roberson hit 2-for-5 with two runs and 2 RBIs, while Luis Alen and Price Kendall both had three hits for the Goldeyes
Fargo-Moorhead battled back from three runs down in fourth and fifth innings. Nic Jackson hit a solo home run in the fourth while the RedHawks scored two runs in the fifth to tie the game 3-3 off an RBI single by Zach Penprase and an Eric Campbell sacrifice fly.
The Goldeyes extended their lead to 5-3 in the sixth and put the game out of reach in the eighth with RBI singles by Yurendell de Caster and Josh Mazzola making it 7-3. Winnipeg scored two of their runs off of wild pitches allowing runners to score from third.
Zach Penprase and Nic Jackson both hit 3-for-5 in the ballgame for Fargo-Moorhead. Penprase had three RBI and two runs scored while Jackson scored two runs and hit one RBI. Ryan Delgado and Carlo Coto had multi-hit games.
Winnipeg starter Ace Walker improved to 7-4 on the season after he pitched six innings giving up three earned runs on seven hits and four strikeouts. Five relievers made appearances with Chris Bodishbaugh picking up his first save of the season in 1 1/3 innings of work. He allowed two earned runs on two hits while striking out two.
RedHawks starter Alex Caldera scattered seven hits in 4 1/3 innings with three runs, four walks, and two strikeouts before being pulled. Joe Harris dropped to 1-1 on the season after allowing two earned runs on one hit with two strikeouts and a walk. Kevin Fuqua pitched 1 1/3 innings of relief while Ethan Opsahl pitched the final two outs, one being a strikeout.
Fargo-Moorhead and Winnipeg conclude their four-game series tomorrow at 12:30 p.m. at Newman Outdoor Field. Probable starters for tomorrow's game are Jake Laber for the RedHawks and Chris Salamida for the Goldeyes. Tickets are available at fmredhawks.com or by calling (701) 235-6161.