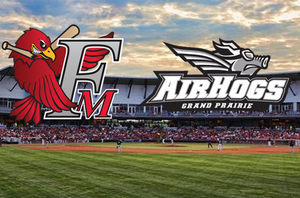 GRAND PRAIRIE, Texas – Andres Rodriguez blooped a 2-1 pitch to shallow centerfield with two outs in the bottom of the ninth to score Keanon Simon from second and give the Grand Prairie AirHogs a 3-2 win over the Fargo-Moorhead RedHawks on Thursday at QuikTrip Park, taking the rubber match of their series and keeping the AirHogs a game ahead of Laredo and now two games up on idle El Paso, who was rained out earlier.
Grand Prairie (48-43) grabbed an early 2-0 lead helped by RedHawks starter Paul Burnside's wildness. In the first, he walked Simon and Brian Myrow with one out, before a wild pitch and a fielder's choice out by Rodriguez put the AirHogs in front.
In the third, a one-out walk to Myrow and a wild pitch set the AirHogs up again, and Trent Lockwood's single gave Grand Prairie a two-run cushion.
It looked like that lead might hold up as the game went on, with AirHogs starter Josh Strawn perfect through five innings. The righty, who gave up a season-worst 10 runs on 12 hits to the RedHawks (59-31) in North Dakota last month, got 11 groundouts, three flyouts and a strikeouts heading to the sixth.
But Marcos Rodriguez led off that inning with a single to right, and after Carlo Cota flied out, Ryan Stovall singled to put two on. Zach Penprase lined a double to right-center to bring in a run, and Buddy Sosnoskie grounded to second on the first pitch he saw to bring in Stovall and tie the game.
Strawn got out of that inning, pitched around a one-out walk in the seventh and a two-out single and stolen base in the eighth, before yielding to Adam Miller (2-2) in the ninth. The righty immediately gave up a leadoff double to Nic Jackson and hit Eric Campbell, but he got Jon Gaston on strikes and Ryan Delgado on a weak groundout. Miller then intentionally walked Marcos Rodriguez, and Cota popped out to second to end the inning.
Lefty Joe Harris (1-2), who had relieved Burnside to start the seventh, got the first two outs of the bottom of the ninth, before Simon blooped a single to center. Myrow then walked, before righty Kevin Fuqua was summoned to face the righty-swinging Andres Rodriguez. The AirHogs' first baseman took two pitches, fouled off another, and then blooped one just past the reach of Cota in shallow center, as the AirHogs celebrated just their second series win of the second half – both at home.
Notes: After allowing 67 hits in the first five games between the two teams this year, the AirHogs held the RedHawks to just five in each of the last two contests…Penprase and Andres Rodriguez were the only players with two hits…The AirHogs did not have a 1-2-3 inning against them in the game, leaving 11 men on base.