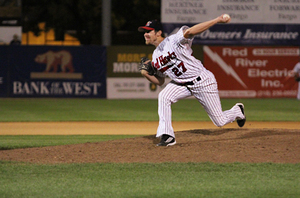 Fargo, ND – The Laredo Lemurs scored four runs in the fourth in a 6-4 victory over the Fargo-Moorhead RedHawks Tuesday at Newman Outdoor Field, extending their season-high win streak to 11 games.
Stephen Pearson was 3-for-4 with an RBI and a run, Stephen Douglas went 2-for-4 with an RBI, Uriak Marquez had two hits with a run and Jimmy Molica had two RBIs to lead Laredo (51-43) at the plate.
The RedHawks picked up their only lead after a Jon Gaston RBI single in the first and a Zach Penprase double to right center field in the second made it a 2-1 game.
The score remained 2-1 through three before the Lemurs picked up four hits in the fourth leading to four runs a 5-2 advantage.
RedHawks starter Jake Laber (6-7) pitched 5 1/3 innings giving up six runs (five earned), scattering eight hits on five walks and two strikeouts. Ethan Opsahl came into the game in the sixth and finished the final 3 2/3 innings giving up only one hit while striking out three.
Former NDSU shortstop Max Casper picked up his first two RBIs as a RedHawk on a single up the middle in the sixth, cutting the deficit to 6-4.
The RedHawks put two runners on base in the ninth, but Mike Benacka struck out Eric Campbell to leave the tying run on base.
Laredo starter Leonard Giammanco improved his record to 5-4 after pitching five innings, allowing four earned runs on four hits, three walks with three strikeouts. Chaz Roe, Edwin Walker Jr., and Mike Benacka combined to pitch the final four innings allowing only two hits while striking out seven Fargo-Moorhead (61-33) batters. Benacka earned his 11th save of the season.
The RedHawks and Lemurs continue their four-game series at 7:02 p.m. Wednesday at Newman Outdoor Field. Probable starters are Aaron Shafer (9-5, 5.26) for Fargo-Moorhead and Matt Way (10-6, 3.64) for Laredo. Tickets are available at fmredhawks.com or by calling (701) 235-6161.