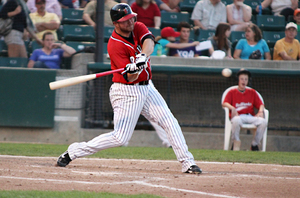 Fargo, ND – The Fargo-Moorhead RedHawks picked up five runs in the third enroute to an 11-1 victory over the Laredo Lemurs, ending the Laredo season-high 11-game winning streak on Wednesday at Newman Outdoor Field.
After losing two consecutive games, the RedHawks found a spark in the bottom of the first after Manager Doug Simunic was ejected by third base umpire Troy Solsaa for arguing a Zach Penprase caught stealing call at second.
The RedHawks bats came alive the following bottom half. Eric Campbell hit a solo home run giving them a 1-0 lead.
Stephen Douglas hit a solo homer of his own in the third tying the game, but Fargo-Moorhead used six singles to score five runs in the third to break the game open. Buddy Sosnoskie, Nic Jackson, Marcos Rodriguez and Ryan Stovall each picked up RBIs in the inning.
RedHawks starter Aaron Shafer picked up his third consecutive victory and improved to 10-6 this season. Shafer pitched six innings scattering seven hits while allowing one earned run on a walk with four strikeouts.
Ryan Stovall was 3-for-4 with a run and an RBI, Nic Jackson went 2-for-5 with a two-run ground-rule double in the seventh while Sosnoskie and Max Casper had two hits apiece for Fargo-Moorhead (62-33).
Laredo (51-44) starter Matt Way lasted only 2 2/3 innings giving up six earned runs on seven hits, two walks and four strikeouts in the loss. Kyle Wilson followed Way and pitched 3 1/3 innings giving up two runs (one earned) on four hits and two walks.
Laredo's Stephen Douglas led the Lemurs hitting 3-for-5 and was responsible for their one run. Johnny Mojica and John Allen had two hits each.
The RedHawks and Lemurs continue their four-game series at 7:02 p.m. on Thursday at Newman Outdoor Field. Tickets are available at fmredhawks.com or by calling (701) 235-6161.