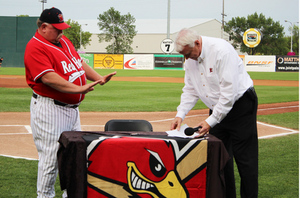 The only Field Manager the Fargo-Moorhead RedHawks have ever employed will be in the dugout for at least another three seasons.
Doug Simunic has signed a new three-year contract with the RedHawks that will take him through the 2015 season, the franchise's 20th campaign. There is also a two-year club option that could carry the new contract through the 2017 season.
Simunic has built the RedHawks into a dynasty in his first 17 seasons at the helm. Including this season, Fargo-Moorhead has reached the post-season 15 times and claimed five Northern League Championships before shifting to the American Association prior to last season.
This year, Simunic has led Fargo-Moorhead to a league-best 63-33 record with four games to play. It's the 7th time in franchise history a Simunic-led RedHawks team has reached the 60-win plateau.
Entering tonight's game, Simunic has fashioned a 1,084-709 record (.605 winning percentage) in 20 seasons in Independent Baseball. Simunic began his managing career in 1993 as the skipper of the Rochester (MN) Aces of the Northern League. He managed the Winnipeg Goldeyes in 1994 and 1995, leading Winnipeg to a title in his first season there. He was hired as manager of the expansion RedHawks prior to the 1996 season and has ruled the roost at Newman Outdoor Field ever since.
"Good work deserves to be rewarded," said RedHawks President and Owner Bruce Thom. "Doug has done a fabulous job for 17 years, and we are happy we could get a new contract in place."
"I am very happy to continue as part of this organization moving forward," said Simunic. "I love the Fargo-Moorhead area, the fans, and being part of a first-class organization. I couldn't think of another organization in this league I would want to work for."