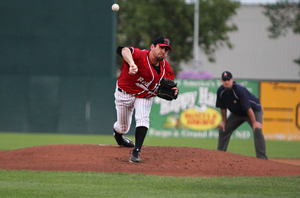 Fargo, ND – Brian Peterson had three RBIs and Osvaldo Rodriguez pitched six innings for the Laredo Lemurs in an 8-2 victory over the Fargo-Moorhead RedHawks on Friday at Newman Outdoor Field in front of a sell-out crowd of 5,438.
The 5,438 spectators is the fourth-largest crowd ever to attend a RedHawks game and the season total of 187,438 is the second-highest combined attendance mark in franchise history.
The RedHawks held a 1-0 lead through five innings before the Laredo lineup put a combined six runs up in the sixth and seventh innings.
Brian Peterson hit an RBI single that scored John Allen to tie the game in the sixth, and the Lemurs scored five runs in the seventh capitalizing off four hits to take a 6-1 lead.
Laredo starter Osvaldo Rodriguez (4-5) scattered five hits in six innings while allowing only one earned run in the victory. Chaz Roe pitched a scoreless seventh and eighth and Mike Benacka gave up one run in the ninth.
RedHawks starter Paul Burnside pitched six innings giving up one earned run on eight hits with eight strikeouts and only one walk in a no-decision. Joe Harris dropped to 1-3 after allowing a run on 1/3 inning pitched in the seventh. Kevin Fuqua pitched 2/3 innings giving up four runs (one earned) on four hits and two walks in the seventh.
Peterson led Laredo (52-45) at the plate hitting 3-for-4 with 3 RBIs. Javier Brito went 3-for-4 with two runs while Stephen Douglas and Jimmy Mojica had two hits apiece.
Eric Campbell went 2-for-3 with an RBI sacrifice fly and Ryan Stovall hit an RBI single in the ninth for Fargo-Moorhead (63-34).
The RedHawks complete the four-game homestand against the Laredo Lemurs with a split. Fargo-Moorhead finishes their regular season home schedule with a 32-18 record at Newman Outdoor Field this season and play their final three games in Winnipeg beginning Saturday. The RedHawks will host Games one and two of the American Association playoffs on Wednesday, Sep. 5 and Thursday, Sep. 6 at Newman Outdoor Field. Playoff tickets are available at fmredhawks.com or by calling (701) 235-6161.