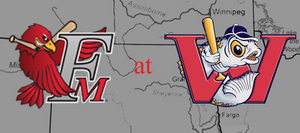 The Fargo-Moorhead RedHawks ended their 2012 Regular Season with an 11-3 Win over the Goldeyes in Winnipeg. Fargo scored in the game's first four innings and seven and ninth innings.
Winnipeg's scoring came with a run in the bottom of the first and two in the bottom of the third, including a solo home run from Yurendell de Caster.
Price Kendall led Winnipeg at the plate by going four-for-five and scoring a run. He was the only Goldeyes player to register more than one hit.
Denver Wynn suffered the loss for the Goldeyes in his first professional start. He allowed eight runs, seven were earned, in five and two-thirds innings.
Fargo starter Jake Laber evened his record to 7-7 by throwing seven and a third innings.
Winnipeg and Fargo will begin their best-of-five American Association Divisional Series Wednesday night in Fargo at Newman Outdoor Field. The first two games are in Fargo before the scene shifts back to Shaw Park on Friday for Game 3 and any other remaining games.