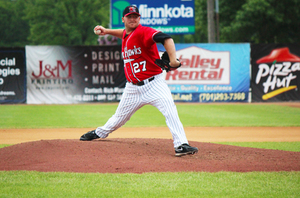 Fargo, ND – Amos Ramon drove in three runs for the Winnipeg Goldeyes in a 4-2 victory over the Fargo-Moorhead RedHawks in game one of the first round of the American Association playoffs on Wednesday at Newman Outdoor Field.
Ramon was 4-for-4 at the plate for the Goldeyes including a go-ahead two-run home run in the seventh and an RBI single in the ninth.
Fargo-Moorhead picked up an early lead after a two-run single by Nic Jackson scored Zach Penprase and Buddy Sosnoskie, giving the RedHawks a 2-0 lead in the first. The RedHawks didn't pick up another hit until the sixth off Winnipeg starter Ace Walker and only managed five in the ballgame.
Winnipeg reliever Brian Buening was able to get the Goldeyes out of a jam in the seventh with the RedHawks down 3-2. Todd Jennings and Zach Penprase reached third and second respectively with one out when Buddy Sosnoskie hit a fly-out to left field. Jennings tagged from third base and was thrown out by Winnipeg left fielder Kyle Day at the plate.
Walker earned the victory after allowing two earned runs on six walks with four strikeouts in 6+ innings. Buening pitched the final three innings for the Goldeyes giving up just one hit and striking out three batters.
RedHawks starter Tyler Herron picked up the loss. Herron pitched 7 1/3 innings giving up three earned runs on seven hits and a walk while striking out seven. Kevin Fuqua, Joe Harris and Eric Massingham combined to pitch the final 1 2/3 innings giving up one run.
Luis Alen was 2-for-3 with two runs scored and Price Kendall hit an RBI groundout in the third for the Goldeyes.
Buddy Sosnoskie hit a double in the first while Zach Penprase, Nic Jackson, Ryan Delgado and Todd Jennings each hit singles.
Game two between the RedHawks and Goldeyes is set to start at 7:02 p.m. on Thursday at Newman Outdoor Field. The probable starter for the RedHawks is Alex Caldera and Chris Salamida for the Goldeyes. Tickets are available at fmredhawks.com or by calling (701) 235-6161.