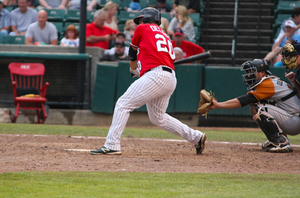 Fargo, ND – The Winnipeg Goldeyes scored a combined five runs in the seventh and eighth innings off three home runs in a 5-3 victory over the Fargo-Moorhead RedHawks on Thursday at Newman Outdoor Field.
The Goldeyes trailed 3-0 but began their rally in the seventh when Josh Mazzola hit a two-run home run off RedHawks starter Alex Caldera cutting the deficit to 3-2.
Yurendell de Caster continued the trend hitting a solo home run in the eighth off RedHawks closer Tom Boleska and after a Barboro Canizares single, Josh Mazzola hit the game-winning two-run home run over the left-field wall.
Goldeyes reliever Brian Buening came in for relief for the second consecutive night and picked up his second save this postseason throwing 1 2/3 innings while giving up one hit and striking out two.
Winnipeg is now up 2-0 in the best-of-five series and is one win away from making it to the American Association Championship Series.
Winnipeg starter Chris Salamida and Fargo-Moorhead starter Alex Caldera kept the game scoreless through five before the RedHawks gained the first lead. A Nic Jackson double and an Eric Campbell infield single lead-off the sixth before Ryan Delgado hit a three-run home run to put the RedHawks ahead 3-0.
Salamida pitched 6 innings scattering seven hits while allowing three earned runs with six strikeouts in the no-decision. Allen and Baldwin each pitched 2/3 innings of relief allowing no hits.
Fargo-Moorhead's Caldera pitched 6+ innings allowing two earned runs on six hits with four strikeouts. Five relievers saw action out of the RedHawk bullpen with Boleska picking up the loss after he gave up three earned runs on three hits in 2/3 innings.
Mazzola went 2-for-4 with two home runs and four RBIs, de Caster was 2-for-4 with a solo home run and Canizares hit 3-for-4 with two runs in the Winnipeg victory.
Delgado was responsible for the three Fargo-Moorhead runs while Nic Jackson was the only RedHawk with a multi-hit game picking up two hits.
Fargo-Moorhead travels to Winnipeg for Game Three of the First Round on Friday at 7:00 p.m. at Shaw Park. Game Four if necessary is set for 6:00 p.m. on Saturday and Game Five if necessary is set for 5:00 on Sunday.