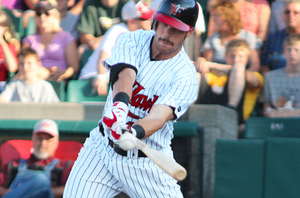 SOSNOSKIE NAMED TO BASEBALL AMERICA INDEPENDENT PROSPECT LIST
FARGO, ND – Fargo-Moorhead RedHawks OF Buddy Sosnoskie was named to Baseball America's Independent Leagues Top 20 Prospects, the magazine announced today. Sosnoskie was ranked seventh overall, the highest ranked American Association player. The list is comprised of players who had not turned 25 prior to September 1.
Sosnoskie batted .339 with 18 doubles, two triples, two home runs, 31 RBIs and 35 runs scored in 53 games for Fargo-Moorhead this summer. Sosnoskie was signed by the RedHawks in June after completing his college career at Francis Marion (SC) University.
Baseball America Independent Leagues Top 20 Prospects
1. Kevin Gelinas LHP Abeline (North American)
2. Chris Cox RHP Quebec (Can-Am)
3. Jonathan Kountis RHP Lake Erie (Frontier)
4. A.J. Nunziato SS Washington (Frontier)
5. Alfonso Yevoli LHP Washington (Frontier)
6. Jason Martin OF Abeline (North American)
7. Buddy Sosnoskie OF Fargo-Moorhead (A-A)
8. Rober Coe RHP St. Paul (A-A)
9. James Hoyt RHP Wichita (A-A)/Edinburg (North American)
10. Brandon Sinnery RHP Lincoln (A-A)/London (Frontier)
11. David Peralta OF Wichita (A-A)
12. Andrew Heck OF Washington (Frontier)
13. Daniel Bowman OF Lake Erie (Frontier)
14. Joe Weik OF Abeline/Edinburg (North American)
15. Gabe Zavala RHP Laredo (A-A)
16. Rick Devereaux C Washington (Frontier)
17. Chris Smith RHP Washington (Fronrier)
18. Keith Cantwell RHP New Jersey (Can-Am)
19. Kyle Mertins RHP Sioux Falls (A-A)
20. Michael Hacker LHP San Angelo (North American)