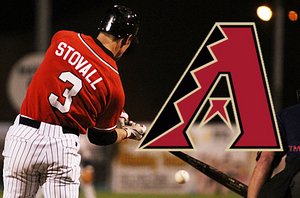 The Fargo-Moorhead RedHawks have sold the contract of INF/OF Ryan Stovall to the Arizona Diamondbacks organization. Stovall will report to minor league spring training with the D-Backs in March.
Stovall, 25, appeared in 80 games for the RedHawks in 2012. He batted .290 with 16 doubles, two triples, seven home runs, 52 RBIs, 44 runs scored and 25 stolen bases. Stovall's defensive flexibility proved to be a huge asset for the RedHawks in 2012, as he saw time at third base, second base, first base and all three outfield spots.
Stovall is currently playing winter ball for the Canberra Cavalry of the Australian Baseball League. He is batting .316 (6-for-19) with three RBIs and three runs scored in five games.
Stovall will be returning to affiliated baseball in 2013. He was selected by the Kansas City Royals in the 19th round of the 2009 draft out of Thomas (FL) University. Stovall spent three seasons in the Royals organization and reached High-A with the Wilmington Blue Rocks of the Carolina League in both 2010 and 2011.
Stovall is the 60th player in RedHawks franchise history to have his contract purchased by a Major League organization and the fifth of 2012.
"Ryan does a lot of good things on the baseball field," said RedHawks Manager Doug Simunic. "He can play all over the field, swings the bat well and is a plus runner. Hopefully he can go to Arizona and work his way up in their organization."
<redhawks>