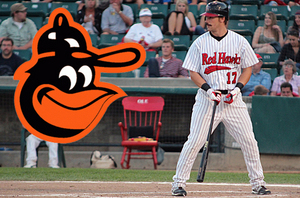 Fargo-Moorhead RedHawks OF Buddy Sosnoskie is getting his chance in affiliated baseball.
Sosnoskie's contract has been purchased by the Baltimore Orioles organization. Sosnoskie, 23, will report to spring training with the Orioles in March. He is the 61st player in RedHawks franchise history to have his contract purchased by a Major League organization, and sixth in 2012.
Sosnoskie joined the RedHawks this summer after completing his college career at Francis Marion (SC) University. In 53 games with Fargo-Moorhead, Sosnoskie batted .339 with 18 doubles, two triples, two home runs, 31 RBIs and 35 runs scored. He stole nine bases and posted a .357 on-base percentage. Following the season, he was named the seventh best prospect in independent baseball by Baseball America magazine.
Last spring at FMU, Sosnoskie batted .391 with 25 doubles, three triples, two home runs, 56 RBIs and 51 runs scored in 58 games. He was Baseball America's pre-season pick as NCAA Division II Player of the year.
Sosnoskie began his college career at Virginia Tech University. Following his sophomore year, he was selected by the Kansas City Royals in the 25th round of the 2010 draft but did not sign. Sosnoskie then transferred to FMU for his final two seasons of college baseball.
"Buddy is a talented player who made a pretty quick transition to professional baseball," said RedHawks Manager Doug Simunic. "Not many rookies have come to Fargo and put up numbers like he did. Buddy has certainly earned the opportunity in affiliated baseball and we are excited for him to move on."
<redhawks>