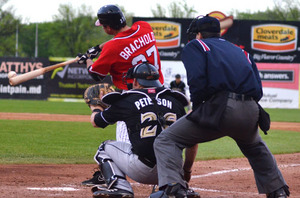 FARGO, N.D. – Mike Sheridan and Marcos Rodriguez picked up three hits each and Jimmy Mojica had three RBIs to help the Laredo Lemurs pick up a 6-2 win over the Fargo-Moorhead RedHawks, on Saturday at Newman Outdoor Field.
The Lemurs improved to 9-0 this season behind a strong pitching performance from Leonard Giammanco. The Laredo starter pitched 6+ innings allowing one earned run on five hits in his first victory of the season.
The RedHawks (2-7) pushed the first run across home in the second on a sacrifice fly by Ronnie Bourquin that scored Tim Alberts after three consecutive walks loaded the bases. Fargo-Moorhead attempted to score the second run of the game on a Todd Jennings single to right field, but Keith Brachold was thrown out at home by Jon Gaston.
Gaston hit a double off the left-field wall to start the fourth and scored the first run for the Lemurs on a Brian Peterson single. A Garrett Rau ground-rule double put Laredo out front and Mojica's sacrifice fly gave the Lemurs a 3-1 lead.
RedHawks starter Paul Burnside (0-2) lasted 3 2/3 innings allowing three earned runs on five hits and five walks in the loss. Ethan Opsahl relieved Burnside in the fourth and got the 'Hawks out of a bases-loaded jam. Opsahl pitched another two innings before being taken out with the bases loaded in favor of Tyler Hess. Another two runs crossed home to put the game out of reach.
Laredo relievers Mark Haynes and Fabian Williamson pitched 1-2-3 seventh and eighth innings, respectively.
Ronnie Bourquin went 2-for-3 for the RedHawks and Todd Jennings had an RBI double in the ninth to cap off a seven-hit team performance for Fargo-Moorhead.
The RedHawks and Lemurs conclude their three-game series at 1 p.m. Sunday, May 26, at Newman Outdoor Field.