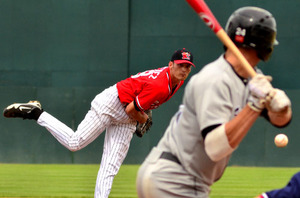 Fargo – The Sioux City Explorers overcame the Fargo-Moorhead RedHawks to win 6-4 in front of 2,951 fans at Newman Outdoor Field on Sunday afternoon.
The Sioux City Explores (22-26) had an offensive outburst in the sixth as they plated five runs on four hits with one RedHawks error. Sioux City chased Fargo-Moorhead's starter, Brian Ernst (2-1), out of the game after 5 2/3 innings. Ernst gave up six earned runs on seven hits with two strikeouts.
Seven Fargo-Moorhead RedHawks (29-20) batters recorded hits in Sunday's contest. Tim Alberts and C.J. Retherford led the way with two hits each. Buddy Sosnoskie went yard in the second inning to plate three runs for the RedHawks.
Sioux City had eight batters with at least one hit in the game. Luke Murton and Alberto Espinosa each had a multi-hit outing. Yusuke Inoguchi and Sam Judah combined for four of the six Explorers' RBIs.
Andy Noga (3-6) started for the Explorers, giving up four runs on eight hits in five innings of work before giving way to Jimmer Kennedy who held the 'Hawks scoreless in three innings pitched. Chris Bodishbaugh came in for the final inning to record the save.
Danny Gutierrez came out of the 'Hawks bullpen for 2 1/3 innings, allowing just one hit with four strikeouts.
The Fargo-Moorhead RedHawks and Sioux City Explorers are back at Newman Outdoor Field for game three at 7:02 p.m. on Monday night. Tickets are available at fmredhawks.com or by calling (701) 235-6161.