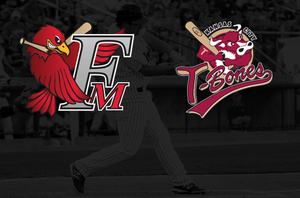 KANSAS CITY, Kan. – A strong pitching performance from Kansas City T-Bones starter Dustin Loggins was enough to give the T-Bones an early lead, but efficiency ruled the day as the Fargo-Moorhead RedHawks scored four runs on four hits, giving the visitors a 4-2 victory in front of 5,912 at CommunityAmerica Ballpark on Friday night.
Loggins (5-5) struck out every Fargo batter at least once en route to a career-high dozen over 6 2/3 innings, blowing past his previous single-game record of seven strikeouts. It was a three-run Nic Jackson homer in the fourth inning, however, that determined Loggins' fate. The home run gave the RedHawks a lead they would not relinquish. Relievers Jose Jimenez and Shaun Garceau added a strikeout apiece.
Kansas City's Justin Bass scored in the first inning on a Jairo Perez sacrifice fly, giving the T-Bones a brief 1-0 lead. The RBI was Perez's fifth RBI in seven games, a team-high over that span.
After Jackson's home run in the fourth, Joey Gathright sent home Kyle Nichols on an RBI single that cut the deficit to 3-2, but the T-Bones stranded eight runners from then on, ending their scoring production.
Fargo-Moorhead starter Ethan Opsahl had a strong outing but only lasted 4 1/3 innings before being pulled for Derek Miramontes (1-1). Miramontes, acquired in a trade Thursday with Grand Prairie, made his RedHawks debut and was credited with the win. Joe Harris (4) finished the game by going 3 1/3 innings, allowing one hit and earned his fourth save of the season.
                                 YTD                                   YTD
Fargo              AB  R  H BI   AVG  K. City            AB  R  H BI   AVG
Z.Penprase SS       4  1  1  0  .257  K.Jones CF          5  0  1  0  .308
R.Bourquin 3B       3  2  0  0  .298  J.Bass 1B           5  1  3  0  .295
N.Jackson CF        3  1  1  3  .310  M.Padgett 3B        5  0  2  0  .339
C.Retherford 2B     4  0  0  0  .280  J.Perez 2B          3  0  0  1  .304
K.Brachold 1B       3  0  2  1  .286  P.Paramore C        3  0  0  0  .243
T.Alberts DH        4  0  0  0  .302  K.Nichols DH        2  1  0  0  .209
B.Sosnoskie RF      4  0  0  0  .241   A.Davis PR         0  0  0  0  .167
M.Einertson LF      2  0  0  0  .262  F.Molina SS         4  0  0  0  .267
T.Jennings C        3  0  0  0  .227  L.Rivera RF         4  0  0  0  .223
                                      J.Gathright LF      4  0  2  1  .294
                   30  4  4  4                           35  2  8  2

Fargo                0 0 0   3 0 1   0 0 0 -  4  4  1
K. City              1 0 0   1 0 0   0 0 0 -  2  8  1
2B--J.Bass 2 (10). HR--N.Jackson (6). RBI--N.Jackson  3 (57), K.Brachold
(53), J.Perez (59), J.Gathright (11). HP--K.Brachold (6). SF--J.Perez (1).
CS--K.Brachold (2). E--K.Brachold (6), D.Loggins (2). 
LOB--Fargo 3, K. City 10. DP--F. Molina(SS) - J. Bass(1B). 
                                                                YTD
                                 IP   H   R  ER  BB  SO  HR     ERA
 Fargo
E.Opsahl                        4.1   6   2   1   1   3   0    2.94
D.Miramontes (W,1-1)            1.1   1   0   0   1   0   0    4.08
J.Harris (S,4)                  3.1   1   0   0   1   2   0    1.74
                                9     8   2   1   3   5   0
 K. City
D.Loggins (L,5-5)               6.2   3   4   3   3  12   1    4.58
J.Hildebrand                    0.1   0   0   0   0   0   0    6.84
J.Jimenez                       1.0   1   0   0   0   1   0    4.32
S.Garceau                       1.0   0   0   0   0   1   0    4.80
                                9     4   4   3   3  14   1
WP--D.Miramontes (1). HB--D.Loggins (5). SO--Z.Penprase, R.Bourquin,
N.Jackson 2, C.Retherford, K.Brachold, T.Alberts 3, B.Sosnoskie 2,
M.Einertson, T.Jennings 2, K.Nichols, L.Rivera 2, J.Gathright 2.
BB--R.Bourquin, N.Jackson, M.Einertson, P.Paramore, K.Nichols 2.
BF--E.Opsahl 21 (149), D.Miramontes 6 (6), J.Harris 12 (204), D.Loggins 27
(347), J.Hildebrand (120), J.Jimenez 4 (149), S.Garceau 2 (469).
P-S--E.Opsahl 68-46, D.Miramontes 21-11, J.Harris 32-21, D.Loggins 119-76,
J.Hildebrand 1-1, J.Jimenez 15-9, S.Garceau 11-6. 
T--2:36.  A--5912