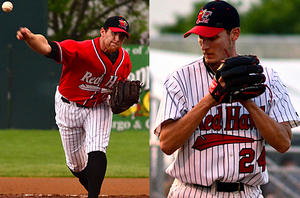 FARGO, ND – Fargo-Moorhead RedHawks RHP Taylor Stanton and LHP Joe Harris have been named to Baseball America's 2013 All-Independent Leagues Team, the magazine announced today.
Stanton was previously selected as the American Association's Pitcher of the Year after posting a 9-4 record with a league-best 2.43 ERA. Stanton made 19 starts for the RedHawks and allowed 115 hits in 126.0 innings pitched. He struck out 108 batters while walking just 29.
Harris was 10-3 with a 1.55 ERA in 53 games out of the bullpen for Fargo-Moorhead in 2013, his third season with the club. He set a team record for appearances in a season, and held opponents to a miniscule .187 batting average against him. Harris allowed 47 hits in 69.2 innings pitched and recorded 59 strikeouts.
Outfielder Nick Akins, who started the season with Fargo-Moorhead before moving on to the Frontier League, was also named to the team.
2013 BASEBALL AMERICA ALL-INDEPENDENT LEAGUES TEAM
Pos. Name Team League
C Danny Canela River City Frontier League
1B C.J. Ziegler Wichita American Association
2B C.J. Beatty Washington Frontier League
3B Abel Nieves Wichita American Association
SS Jeremy Barnes New Jersey Can-Am League
OF Nick Van Stratten Sioux Falls American Association
OF Nick Akins Joliet/Washington/Fargo Frontier/American
OF Cyle Hankerd Southern Maryland Atlantic League
DH Jake Fox Somerset Atlantic League
SP Taylor Stanton Fargo-Moorhead American Association
SP Scott Dunn Traverse City Frontier League
SP Josh Lowey Somerset Atlantic League
SP Dwayne Pollock Lancaster Atlantic League
SP Jeff Shields Trois-Rivieres Can-Am League
RP Patrick Mincey Grand Prairie American Association
RP Jason Urquidez Lancaster Atlantic League
RP Joe Harris Fargo-Moorhead American Association